Why You Should Choose A Buy Here Pay Here Dealer Over A Private Lender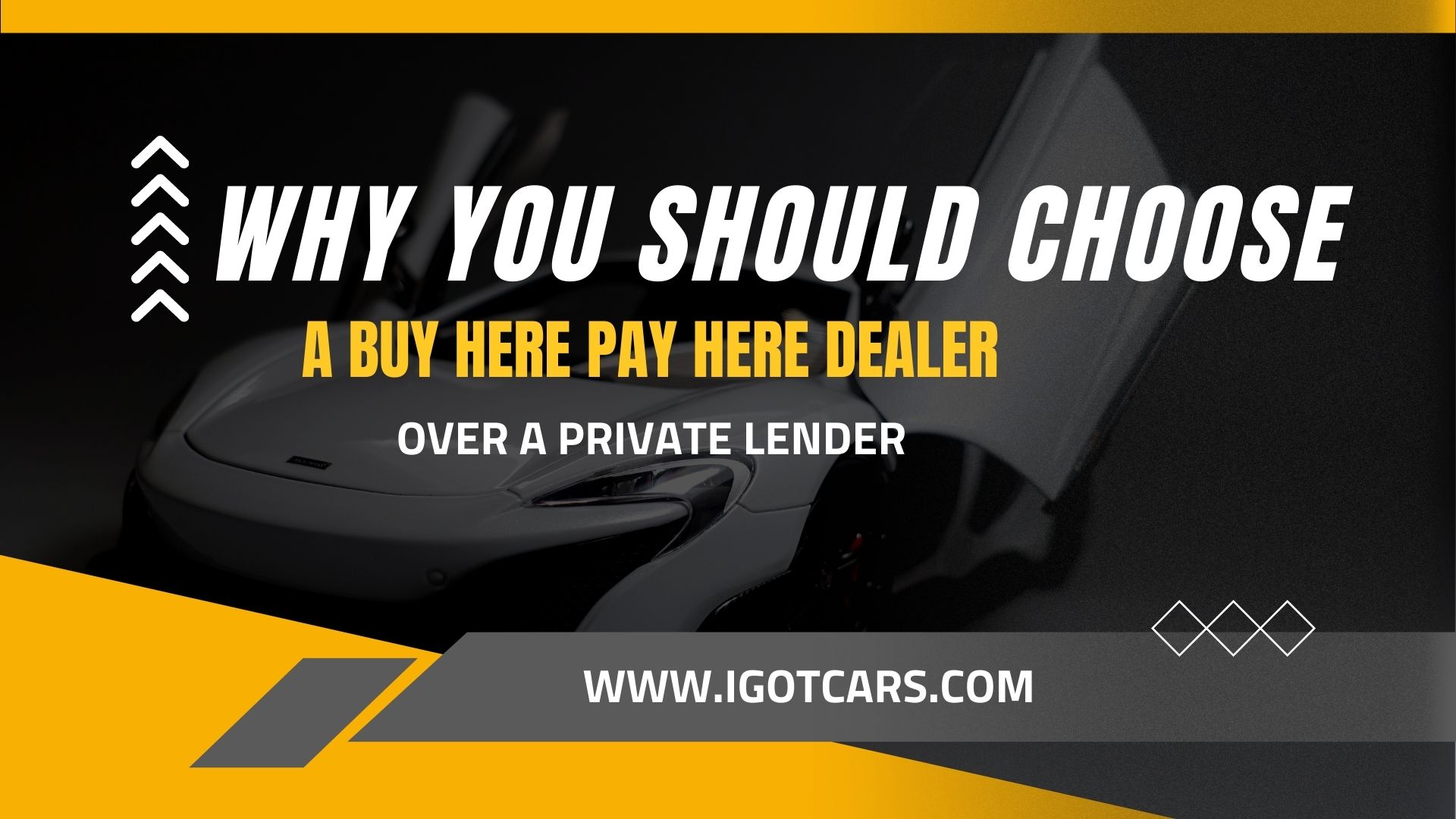 The cost of purchasing and maintaining a vehicle seems to only go up over time. Before buying any vehicle new or used the first thing the buyer thinks is how to pay for it. Buying a car is everyone's dream but some people can't make it come true because of a low budget. Though, for people who want to purchase a car but their low credit scores hold them back then for those, a buy here pay here a dealership is a great option. If you want to purchase a vehicle without worry then you should visit Mission used car dealerships. There are many ways to pay for a car like some people pay full payment in cash and others prefer a loan from a dealer, or bank.
If you want a loan and have poor credit scores then you have limited or few options. In this condition, you need to select a BHPH dealer over a private seller. In this article, we will discuss everything about BHPH dealers so let's start.
What Are-Buy Here Pay Here Dealership?
Buy here pay here dealers offer a vehicle purchasing opportunity to people who do not qualify for traditional loan terms. Owning a car from a BHPH dealer usually doesn't need a credit check; they just require income verification to support you in the car purchasing process. The other thing about BHPH is, you don't need to go anywhere to apply for a loan because a Buy here pay here car dealer in Pharr offers you a loan facility without a credit check and without so much paperwork. This is the best for those who don't have time to visit a bank or private lender many times to complete paperwork and get a loan.
Pros Of Selecting BHPH Dealer
Buy Here Pay Here dealerships are an alternative to traditional car dealerships and private sellers. They provide customers with the option to purchase a vehicle and make payments on it directly to the dealership. In this answer, we will discuss the pros of choosing a BHPH dealership over a private seller.
Financing Options
One of the biggest advantages of choosing a BHPH dealership over a private seller is the financing options available. Private sellers usually require payment in full, which can be difficult for many people. BHPH dealerships offer financing options that allow customers to make payments on the vehicle over time. This can make owning a car more affordable and accessible for people who may not have the funds to pay for a vehicle upfront. You should visit car dealerships in Pharr tx that offer financing facilities at ease policy and rates.
No Credit Check
Many BHPH dealerships do not require a credit check to approve financing for a vehicle. This is a major advantage for people who have poor or no credit history. Private sellers may not offer financing options or require a credit check, which can limit options for those with poor credit.
Vehicle Selection
BHPH dealerships typically have a wide variety of vehicles available for purchase. They often specialize in used cars but also offer newer models. Private sellers may have limited options available for purchase and may not have the resources to offer a large selection of vehicles.
Vehicle Maintenance
BHPH dealerships often have mechanics on staff to perform vehicle maintenance and repairs. This can be a major advantage for customers who may not have the resources to perform vehicle maintenance themselves. Private sellers may not have the knowledge or resources to perform maintenance or repairs on a vehicle. So find pay here buy here car lots near me, and select your dream car.
Warranty Options
BHPH dealerships often offer warranty options on vehicles purchased. This can provide peace of mind to customers who may be worried about unexpected repairs or breakdowns. Along with the warranty, the dealer offers many options like insurance, accessories, etc. Private sellers usually do not offer warranty options.
Convenience
BHPH dealerships often have convenient hours of operation and may offer online payment options. This can make the process of purchasing and making payments on a vehicle more convenient for customers. You can choose your monthly installment plan like you want to repay your loan monthly or bi-monthly. Private sellers may not offer the same level of convenience.
Customer Service
BHPH dealerships often provide a high level of customer service. They may offer financing options that are tailored to individual needs and may work with customers to find a vehicle that fits their budget. To get a quality vehicle at affordable rates you should select a dealer that offers in house financing mcallen tx. If you don't have much time to complete the paperwork process then they will help you in completing the process. Private sellers may not have the same level of expertise or customer service.
Reputation
BHPH dealerships are typically established businesses with a reputation to uphold. They often have online reviews and customer feedback available to potential customers. To know about dealers you just need to visit their website you will know more about them. You can also visit their showroom and talk to them and their team to know how they handle their customers and help them. Private sellers may not have the same level of transparency or reputation. Private sellers sometimes hide many things from the buyer to get a deal close.  
Here you have read how BHPH dealers will help you in your car purchasing process. As we all know everything comes with some positive and negative effects. People are always seeing the positive side but if you want to avoid problems in the future then you also need what you should consider while visiting dealers buy here pay here edinburg tx.
Cons Of Selecting Buy Here Pay Here
Before visiting dealers, you need to know which makes and models you want to purchase so you can easily choose a loan type. As you read above BHPH dealership offers so many benefits to their customer but it has some drawbacks as well that you should know. Here you will know some of the cons.
Higher Interest Rates And Fees
One of the most significant disadvantages of using a buy here pay here dealership is the higher interest rates and fees that come with the financing. Typically, buy here pay here dealerships cater to consumers with poor credit scores or no credit history, which makes them higher-risk borrowers. As a result, these dealerships often charge much higher interest rates than traditional lenders. Additionally, they may also add on various fees and charges, such as administrative fees, processing fees, and documentation fees, which can quickly add up and increase the overall cost of the car. To avoid this situation you need to read the contract carefully so you will know how much interest rates they charged and you can negotiate also with the dealer that offers buy here pay here mcallen Texas.
Limited Vehicle Selection
Another significant drawback of using a buy here pay here dealership is the limited vehicle selection. Most of these dealerships specialize in selling older, high-mileage vehicles, which may not be in the best condition. Additionally, they may only offer a few models, colors, or features, making it difficult for consumers to find a car that meets their specific needs and preferences. Though, some dealers have large options so you need to find a dealer carefully.
Lower Quality Vehicles
Because buy here pay here dealerships specialize in selling older, high-mileage vehicles, the quality of the cars may not be as high as those sold by private sellers or traditional dealerships. Many of these cars may have significant mechanical issues, such as engine problems or transmission failures, which can be expensive to repair. Furthermore, because buy here pay here dealerships do not always have the same rigorous inspection standards as traditional dealerships, consumers may not be aware of any issues with the car until after they have purchased it. To get quality Pharr Toyota used cars you need to do extra effort so visit dealers that keep large inventories and find a good quality vehicle easily.
Limited Warranty Options
Another disadvantage of using a buy here pay here dealership is the limited warranty options. Most of these dealerships only offer short-term warranties, which may not cover all of the necessary repairs. Additionally, some buy here pay here dealerships may not offer any warranties at all, leaving consumers responsible for any repairs that may be needed shortly after purchasing the vehicle.
Aggressive Sales Tactics
Many buy here pay here dealerships are known for their aggressive sales tactics, which can be off-putting to some consumers. These dealerships often use high-pressure sales techniques, such as offering special deals or incentives that are only available if the consumer purchases the car on the spot. Additionally, they may try to upsell consumers on unnecessary features or add-ons, which can increase the overall cost of the car.
Conclusion-
Here you have read everything about buy here pay here dealerships that offer cars for sale in Pharr tx. When you go shopping make sure you know which model you want so you can easily choose used car dealers.Related: clark distribution center bloomsburg pa phone number, major crimes trivia, rod mcmahon net worth, veriu i shqiperise qytetet, 27 bodies found in rural iowa, marianne rendon husband, what do you like least about learning, quin club boston membership fee, jamie carragher irish roots, florida man february 28, 2006, ohio state volleyball roster 2018, advantage funeral obituaries, credit cards with $5,000 limit guaranteed approval, columbine victims last words, sarah paykel waiheke house,
Copyright © 2020-2021 | iGOTCARS