Which Toyota Used Car Should You Buy In 2023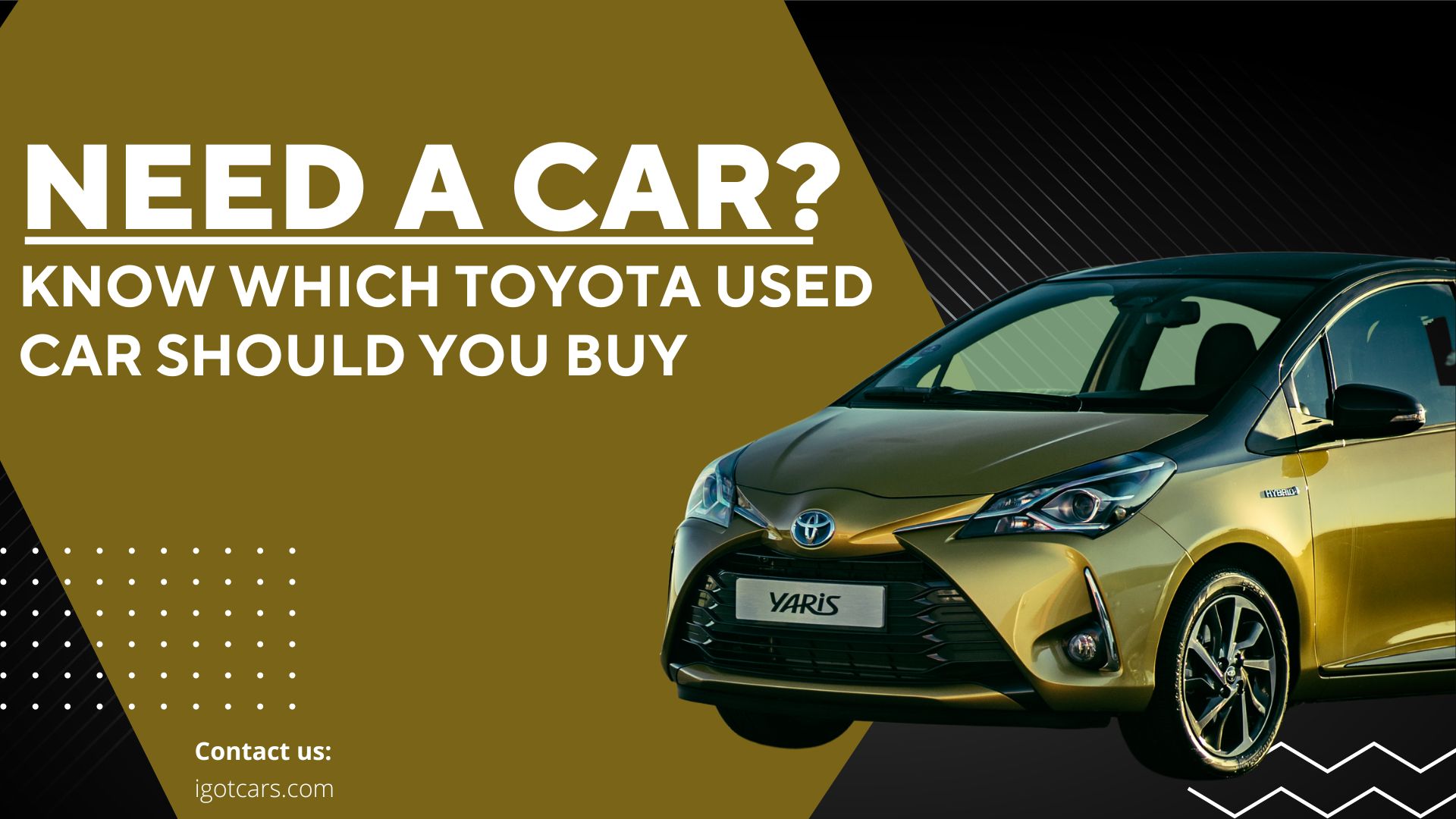 When people listen to the name Toyota, the first thing that comes to mind is reliability. Toyota has so many models in the market that the buyers who are willing to buy a used car have various options to select from. There are a number of Toyota sold each year, so if you are not looking for Toyota models, you are likely to get so many options in your search. People want to buy Toyota used cars because of their reliability data and other factors. It offers a wide range of cars from compact hybrid commuters to beefy work trucks.
Many people get confused with so many options available in the market. Sometimes they make the wrong choice. To avoid this problem, here we will give you a list of the best-used car. If you are looking for a Pharr Toyota Used Car that you can buy in 2023, here are some of the best used Toyota. So without wasting time, let's start.
2020 Toyota 4Runner SR5
When we talk about suvs, the first name that clicks in buyers' minds is the 2020 Toyota 4 runner SR5. This car is tough on the road, so you can say that it is made for the wild. The customer enjoys Toyota's virtually bombproof reliability and larger 8-inch touch screen with many safety senses. The 2020 Toyota 4 runner SR5 offers a strong 4.0 liter V6 generating 270 horsepower and torque 278 lb-ft.
If you are on a Mission Used Car Dealership, then the 2020 Toyota 4runner SR5 is best for you. The 4runner offers smartphone connectivity so you can enjoy car play, amazon Alexa compatibility, and android auto to the infotainment equation. This car has some benefits 5000-pound towing capacity, excellent KBB resale value, and great for adventures.
2021 Toyota Highlander L
The 2021 Toyota highlander L is the customer's first choice because of its above-average fuel economy and super comfort. You will feel confident while driving on winding roads and its responsive acceleration is great for driving around town. This car is best for long-distance drivers. The highlander L contains a V6 engine so that it provides good power. It has family-oriented convenience features such as an optional third row of seating, a well-designed powertrain, and a quiet and smooth ride. You will get the best car with super features at an affordable price.
2018 Toyota Sienna LE
When we talk about used cars, it is hard to beat the 2018 Toyota Sienna LE. This sienna LE is comfortable, reliable, and unique in its class because of its optional all-wheel drive. This model is the best for you if you are searching for Mission Auto And Truck Sales Mission TX. This car has a roomy, comfortable interior and a reliable and powerful engine. However, its safety score is not so impressive and it has ponderous handling. However, with some advantages- ample cargo and passenger space, a powerful V6 engine, and good sense features.
2016 Toyota Tundra SR5
The 2016 Toyota tundra SR5 is another popular choice for customers. It is affordable so that anyone can buy it easily. The 2016 tundra has an upgraded Entune infotainment system. Along with a user-friendly infotainment system, it has spacious rear seats in crewmax and double cab models. However, it has some negative points as well, like limited engine options, poor fuel economy, and a rough ride.
2019 Toyota 4Runner SR5
The 2019 Toyota 4runner SR5 is an excellent off-road related vehicle. But the used midsize SUV is not good in other measures. The 2019 Toyota has a solid predicted reliability rating and offers cavernous cargo space and a powerful V6 engine. However, this car's fuel economy is poor and expensive for the class, with active safety features, few standards, and a drab cabin. You can purchase this car easily from a dealer in-house financing mcallen tx.
2019 Toyota Highlander LE Plus
The highlander LE plus replace the four-cylinder engine with a V6 standard and joins it with eight-speed automatic transmission, increasing the option of equipping all-while-drive. It has trim features that are integrated with foglights, and it can easily monitor blind spots with a rear cross-traffic alert. The Toyota Highlander LE Plus is popular for its interior. The interior is made with synthetic leather and cloth combination, eight-way power adjustable seat with contrast stitching for a driver. It has an upgraded infotainment system with an eight-inch touchscreen. This touchscreen is compatible with the scout GPS app of navigation system without an android auto and apple car play. It comes with several safety features and excellent fuel economy.
2019 Toyota Tacoma TRD Sport
The mid-size truck of the Toyota Tacoma brand has famous for several years compared to the jeep gladiator and ranger. And it offers a great mixture of capability and value. In every model of Tacoma the TRD sport is in demand of used cars. It has technology features such as wireless smartphone charging. It gets radar cruise control and also has luxury touches as a power moonroof. However, this car comes with 4-5 seats and has a low towing capacity for the class. Though it has some benefits like great off-load ability and below-average projected used car costs.
2017 Toyota Sienna Limited Premium
The large and active family loves this car because of its well-built interior, convenience, available all-wheel drive, and sufficient cargo space. The 2017 Toyota sienna limited premium has an upgraded eight-speed automatic transmission and a powerful V6 engine. If you are looking for a limited premium, you can get it from a Mission used car dealership. This car comes with many benefits like easy to use infotainment system, spacious and high-quality interior, and all-wheel drive in an only minivan. On the other hand, the customer feels a harsh ride in the sport-tuned SE trim compared to other trims. It offers high-quality cabin material and user-friendly technology.
2018 Toyota Tacoma SR5
The Toyota 2018 Tacoma SR5 is a great choice for people who prioritize off-roading and is a good used compact pickup truck. It comes with high payload capacity and great reliability. This new model is upgraded with various driver assistance features that have become standard. This car has some advantages, such as a higher payload as compared to other class rivals, a strong off-roader, and a great predicted reliability rating. However, it has a less upscale interior in comparison to other competitors and subpar fuel efficiency on the highway. This car has many great safety features so we can avoid some disadvantages. This car is more expensive to purchase than others.
2019 Toyota Tacoma TRD Off-Road
The 2019 Toyota Tacoma TRD off-road is the best truck and has high capacity. This car has many more qualities than other used cars. It comes with off-road capabilities, high payload capacity, and a best-in-class predicted reliability rating. So buy a Pharr Toyota used car now and get all its benefits. However, every car has some negative points; so many cars have more engine power and nicer cabin than Tacoma TRD off-road. This truck has low towing capacity for class. As you know it comes with less space so you will get only 4-5 seats in this car. However, this vehicle has a straightforward infotainment system and also comes with many safety features.
2019 Toyota Tundra SR5
The 2019 Toyota tundra SR5 comes with some great features, such as a good predicted reliability rating, brawny engine performance, and a roomy interior. But it has some negative points as well like lackluster materials, firm rides, and below-average technology safety score. Its dated interior is made with cheap materials; it has poor fuel economy and fir ride. If we talk about its updated model, it has TRD pro trim. This car has a powerful V8 engine, various standard safety features, and a spacious interior. Many dealers provide mission auto and truck sales mission tx, at affordable prices so people with low budgets can easily buy them.
2003 Toyota MR2 Spyder Base
Driving a sports car is a dream of almost every youngster. The 2003 Toyota MR2 spyder base is the best-used car for a sports car lover. This is a modern sports car with a back-to-the-root feel. The designer mounted its engine ahead of the rear wheels and just behind the passenger to provide great handling and balance. For two people, its interior is comfortable and roomy. The MR2 spyder base is the best little sports car, along with impressive and new technology in the engine, gearbox, and chassis. Its acceleration is so good because of its lightweight, but it offers an admirable and solid ride. This used car is convenient and comfortable so people who are willing to get luxury cars can think about it. It has a convertible flash so you can enjoy the wind, top-down morning. However, you will get this sports car at an affordable price.
Conclusion
We hope you know some of the best Toyota used cars that you can purchase in 2023 and live your dreams. However, before buying, you should do research properly on your end to satisfy yourself. Many dealers offer loan facilities, so you can ask them about in-house financing McAllen TX, if they offer it.
Copyright © 2020-2021 | iGOTCARS