Top Queries of Customers When Purchasing a Used Vehicle from a Used Car Dealership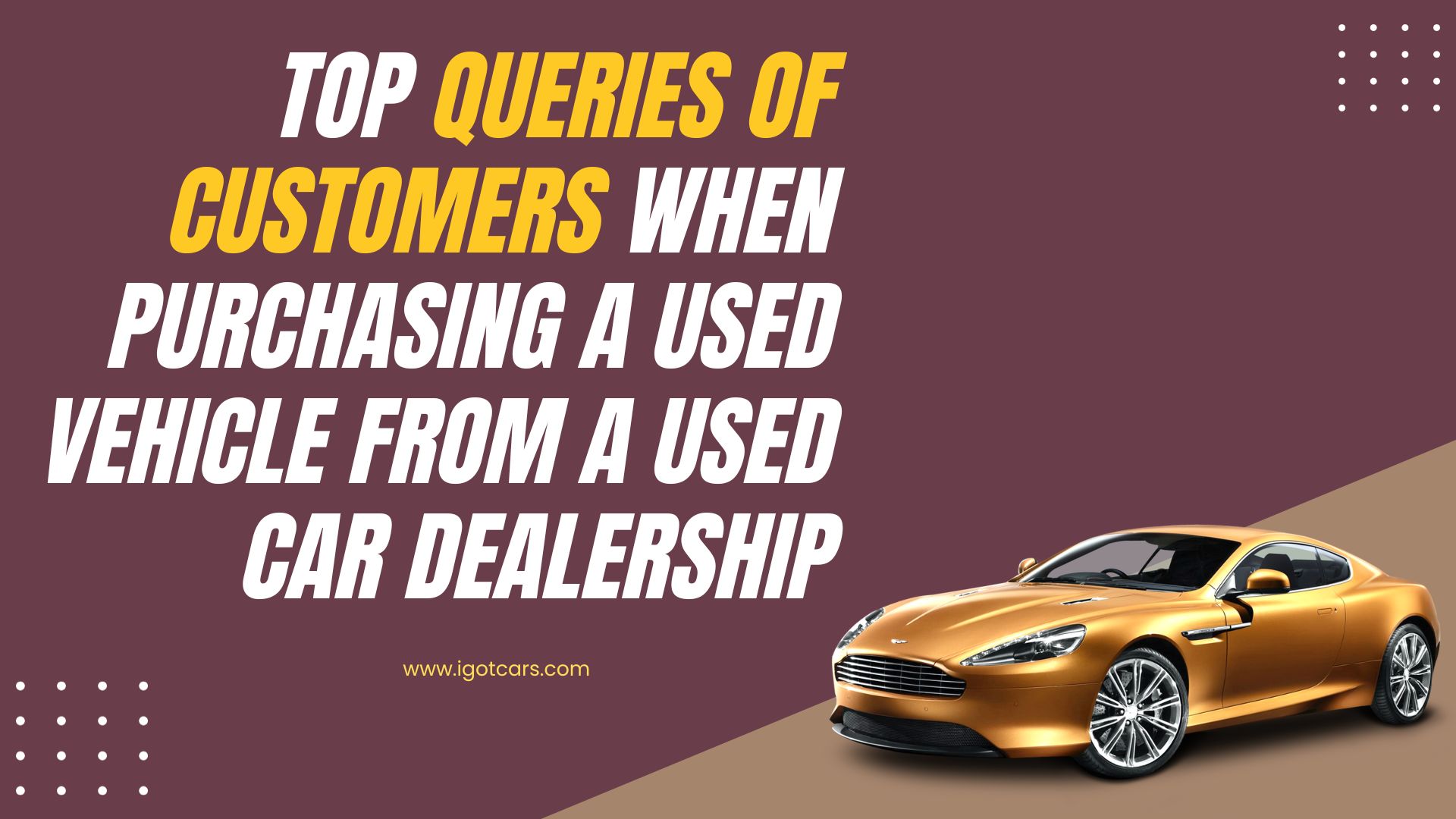 Purchasing a used vehicle can be both an exciting and nerve-wracking experience. Whether you're a seasoned buyer or a first-time car owner, navigating the world of used car dealerships can raise a plethora of questions. In this article, we'll delve into the top queries customers often have when considering a used vehicle from a dealership.
Vehicle History:
One of the foremost concerns for buyers is the vehicle's history. Customers often want to know if the car has been in any accidents, undergone major repairs, or if it has a clean title. Most reputable used car dealerships provide a vehicle history report that outlines crucial information about the car's past. This transparency helps buyers make informed decisions and ensures they are aware of any potential red flags.
Mechanical Condition:
The mechanical health of the vehicle is a paramount concern for buyers at used car dealership near me . Questions about the engine, transmission, brakes, and overall performance are common. Buyers may ask about recent inspections, maintenance records, and any upcoming repairs that might be needed. A trustworthy dealership should be willing to provide detailed information and, in some cases, allow an independent mechanic to inspect the vehicle.
Mileage and Age:
Buyers often wonder about the sweet spot for mileage and the ideal age of a used car. While there's no one-size-fits-all answer, it's essential to consider how the vehicle was used and maintained. Lower mileage doesn't always guarantee a better deal if the car has been poorly maintained, and a well-maintained higher-mileage vehicle can still offer reliability. Dealerships should be transparent about these details to assist buyers in making informed decisions at buy here pay here near me.
Warranty and Return Policies:
Understanding the warranty options and return policies is crucial for buyers seeking peace of mind. Many used car dealerships offer limited warranties, providing coverage for a certain period or specific components. Buyers often inquire about what is covered, the duration of the warranty, and any additional costs. Knowing the return policy is equally important, as it provides an extra layer of protection in case the buyer encounters unforeseen issues shortly after the purchase.
Financing Options:
Financial considerations play a significant role in any vehicle purchase. Buyers often ask about financing options, interest rates, and the approval process. Understanding the total cost of ownership, including monthly payments, interest rates, and potential down payments, is crucial for budget-conscious consumers. A transparent dealership will explain these details and work with buyers to find a financing solution that suits their needs.
Inspection and Test Drive:
Many buyers want to physically inspect and test drive the vehicle before committing to a purchase. Questions about scheduling an inspection, taking the car to an independent mechanic, and the test drive process are common. Reputable car dealerships near me  encourage test drives and inspections, as they understand that a hands-on experience is essential for buyers to feel confident in their decision.
Trade-In Options:
For customers looking to trade in their existing vehicle, questions about the trade-in process are inevitable. Buyers often want to know how the trade-in value is determined, whether it can be used as a down payment, and if the dealership accepts vehicles in various conditions. Clear communication about the trade-in process helps buyers plan their purchase and understand the overall financial implications.
Certification and Quality Assurance:
Certified pre-owned programs provide an added layer of assurance for buyers. Questions about the certification process, the criteria a vehicle must meet to be certified, and the benefits of choosing a certified pre-owned vehicle are common. Dealerships should be transparent about their certification standards and provide documentation to support their claims.
Ownership Costs:
Beyond the initial purchase price, buyers are concerned about ongoing ownership costs. Questions about fuel efficiency, maintenance costs, and insurance rates are typical. Providing buyers with estimates of these costs helps them budget for the long term and ensures there are no surprises after the purchase.
Negotiation and Pricing:
Pricing is a key consideration for buyers, and many want to understand the negotiation process. Questions about the initial asking price, potential discounts, and any additional fees are common. Transparent dealerships are upfront about their pricing strategy, making it easier for buyers to assess whether the offered price aligns with the vehicle's value.
The journey of purchasing a used vehicle from a dealership is paved with questions. A customer's confidence is built on the transparency and openness of the dealership. Addressing these top queries with honesty and providing clear information not only facilitates a smoother buying process but also establishes trust between the buyer and the dealership. Whether it's the vehicle's history, mechanical condition, financing options, or ownership costs, a well-informed buyer is better equipped to make a decision that aligns with their needs and expectations.
If you are looking for buy here pay here McAllen TX then visit I got cars – one of the best  i got cars pensacola fl
Copyright © 2020-2021 | iGOTCARS