Top 10 Trending Cars in the USA: The Cream of the Crop for American Drivers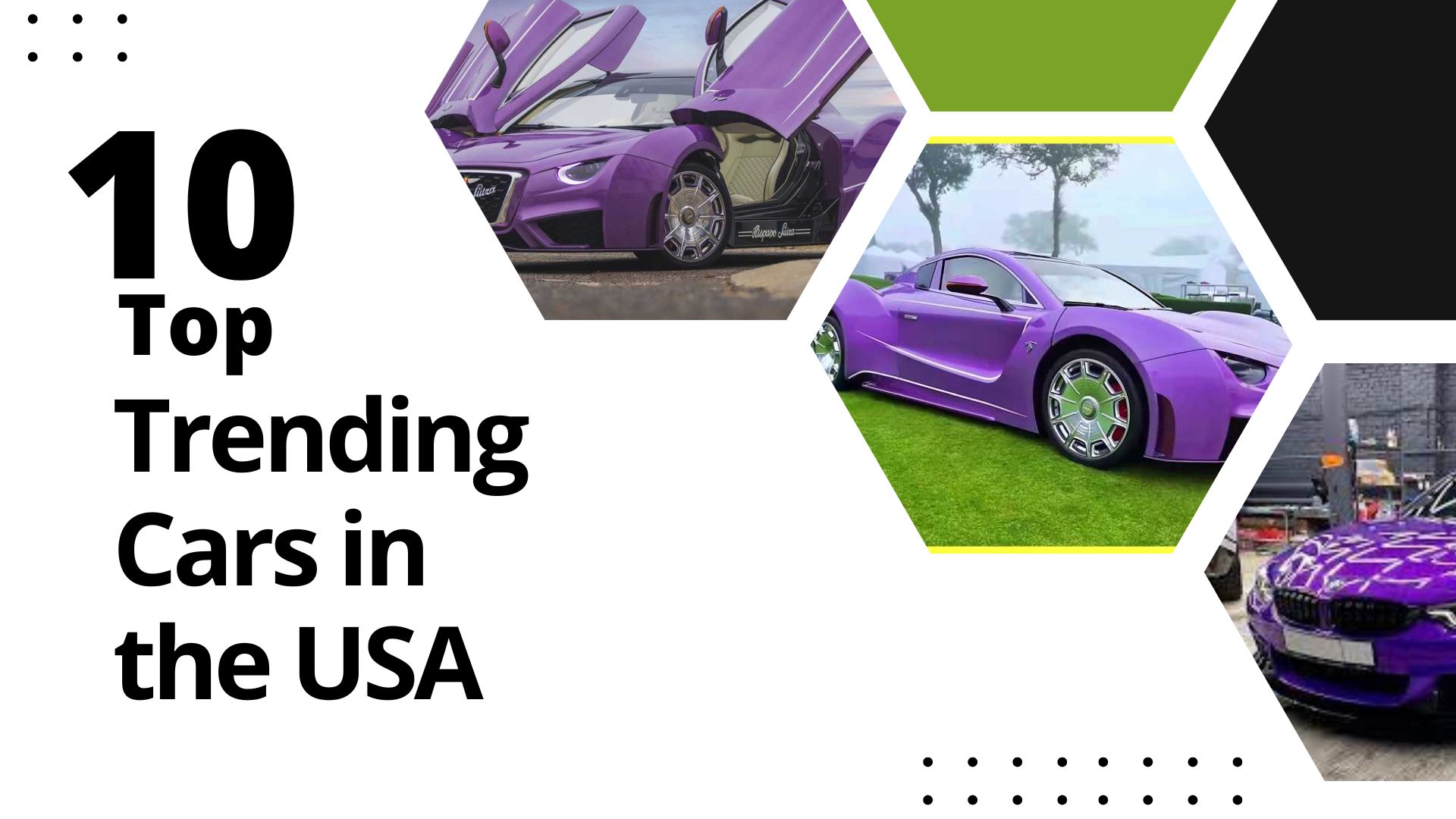 The American automotive market is ever-evolving, with new car models hitting the roads every year. As technology advances and consumer preferences change, automakers strive to create vehicles that cater to the demands of modern drivers. In this article, we'll explore the top 10 highest-rated cars that have been trending in the USA, capturing the hearts of enthusiasts and everyday drivers alike.
Tesla Model 3
Undoubtedly, the Tesla Model 3 has been a game-changer in the automotive industry. This all-electric sedan has managed to blend sleek design, incredible performance, and cutting-edge technology into one impressive package. With its long driving range and swift acceleration, the Model 3 appeals to both eco-conscious consumers and those who enjoy a thrill behind the wheel. Additionally, the innovative Autopilot feature has captured the imagination of tech enthusiasts, making the Model 3 a symbol of the electric vehicle revolution.
Ford F-150
The Ford F-150 has been an American icon for generations. Renowned for its reliability, versatility, and rugged capabilities, the F-150 continues to dominate the pickup truck segment. Ford's commitment to innovation has led to the introduction of hybrid variants, appealing to drivers who want both power and efficiency. Whether it's for work or leisure, the F-150 remains a top choice for those who require a dependable and powerful companion on the road.
Toyota RAV4
In the world of SUVs, the Toyota RAV4 stands tall as a crowd favorite. Its spacious interior, fuel-efficient engines, and impressive safety features have made it a popular choice among families and adventure-seekers. With the growing demand for crossovers, the RAV4 has managed to stay ahead of the competition, cementing its position as one of the best-selling SUVs in the USA.
Honda Accord
When it comes to midsize sedans, the Honda Accord is a name that has garnered respect and admiration over the years. Its reputation for reliability, comfortable ride, and advanced safety features has made it a top-rated choice among practical consumers. The availability of hybrid powertrains has further boosted its appeal, offering a greener option for those who prioritize fuel efficiency.
Chevrolet Corvette
For sports car enthusiasts, the Chevrolet Corvette remains an everlasting dream. With its mesmerizing design and unparalleled performance, the Corvette has become synonymous with American muscle cars. The latest generation's move to a mid-engine layout has only added to its allure, providing a driving experience that's both thrilling and refined. As a symbol of American automotive ingenuity, the Corvette continues to shine as one of the most sought-after sports cars in the USA.
Subaru Outback
The Subaru Outback has carved its niche in the market by blending the characteristics of a wagon and an SUV. Its go-anywhere capability, practicality, and all-wheel-drive system make it a favorite among outdoor enthusiasts and families alike. With a focus on safety and reliability, the Outback has managed to secure a dedicated fan base that appreciates its adventurous spirit and off-road prowess.
BMW 3 Series
For those seeking a touch of luxury combined with sporty driving dynamics, the BMW 3 Series stands as an excellent choice. This compact luxury sedan offers a well-crafted interior, sophisticated technology, and a range of powerful engines. The driving experience is second to none, and its premium appeal attracts both performance enthusiasts and luxury car buyers.
Hyundai Kona Electric
As the world moves towards sustainable mobility, the Hyundai Kona Electric has been making waves in the USA market. With its impressive electric range, modern design, and competitive pricing, this all-electric compact SUV offers a practical and eco-friendly option for daily commuting. As consumers become more environmentally conscious, the Kona Electric is poised to make a lasting impact on the automotive landscape.
Jeep Wrangler
The Jeep Wrangler is an American automotive icon known for its ruggedness and off-road capabilities. Enthusiasts are drawn to its distinctive design, removable top options, and a sense of freedom that comes with owning a Jeep. Whether it's conquering challenging terrains or enjoying open-air adventures, the Wrangler remains a top choice for drivers seeking an authentic and thrilling off-road experience.
Mazda CX-5
Rounding out our list is the Mazda CX-5, a compact SUV that has earned praise for its engaging driving dynamics and elegant interior. Mazda's dedication to providing a fun-to-drive experience sets the CX-5 apart from its competitors. With its stylish design, feature-rich infotainment system, and a range of safety options, this SUV appeals to those looking for a refined and enjoyable daily driver.
The American automotive market is bursting with options, but these top 10 trending cars stand out as the cream of the crop. From electric vehicles to rugged trucks and stylish sedans, each model caters to different preferences and needs. With the industry's ongoing commitment to innovation, we can expect even more exciting advancements and breakthroughs in the years to come, reshaping the way Americans drive and experience the open road.
Copyright © 2020-2021 | iGOTCARS