The Ultimate Checklist: Top Inspections to Make When Visiting Car Dealerships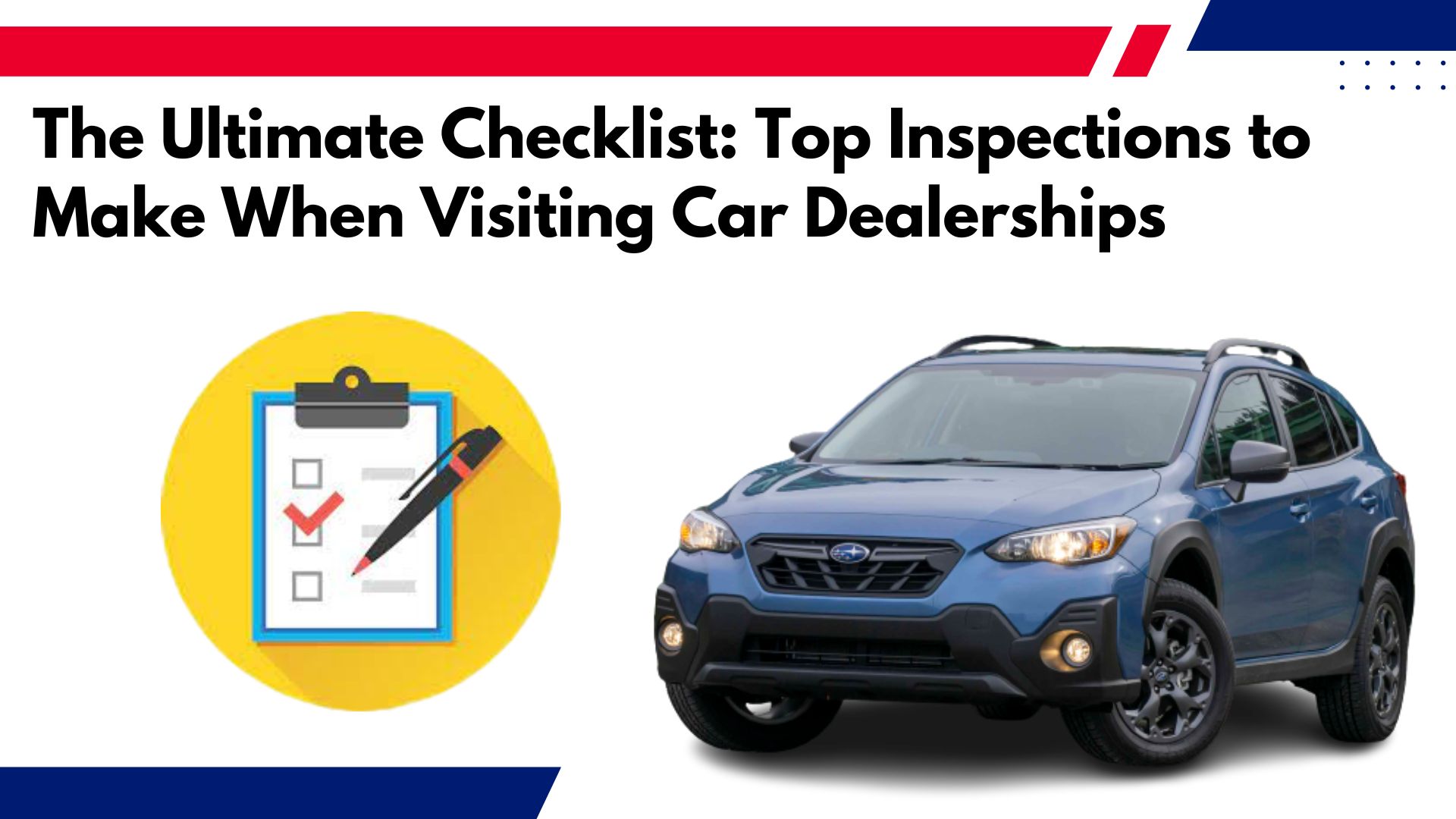 Visiting car dealerships can be an exciting experience, whether you're on the hunt for a new or pre-owned vehicle. However, it's essential to approach the process with a keen eye and a thorough checklist to ensure you make the right decision. In this comprehensive guide, we unveil the ultimate list of inspections to make when visiting car dealerships. From scrutinizing the vehicle's condition to evaluating pricing and customer service, this checklist will empower you to make an informed and confident purchase. So, let's gear up and dive into the world of smart car shopping!
Exterior Inspection
Start by conducting a detailed exterior inspection of the vehicle. Check for any dents, scratches, or signs of previous accidents. Inspect the paint job for consistency and uniformity. Look for uneven gaps between panels, as they may indicate poor assembly or repairs. Check that all lights, including headlights, taillights, and turn signals, are in proper working condition.
Interior Inspection
Once you've examined the exterior, move on to the interior inspection. Inspect the upholstery for any tears, stains, or wear. Check the functionality of all buttons, switches, and controls, such as power windows, mirrors, and seat adjustments. Ensure that the air conditioning, heating, and infotainment systems work smoothly. Look for any unusual odors inside the vehicle.
Under the Hood Examination
A thorough examination under the hood is crucial to assess the vehicle's mechanical condition. Check the engine for any signs of leakage, corrosion, or damage. Inspect the fluid levels, including oil, coolant, and brake fluid. Look for frayed or damaged belts and hoses. Take note of any unusual noises, vibrations, or engine warning lights.
Test Drive
The test drive is one of the most critical aspects of the car-buying process. Take the vehicle for a test drive on various road types, including highways, local roads, and uneven surfaces. Pay attention to the car's handling, braking, acceleration, and overall comfort. Listen for any unusual noises that might not have been apparent during the stationary inspection.
Vehicle History Report
Request a comprehensive vehicle history report, especially for pre-owned cars. The report will provide valuable information about the car's ownership history, accident records, mileage accuracy, and service history. A clean vehicle history report can provide peace of mind, while red flags may warrant further investigation.
Pricing Research
Before visiting the dealership, conduct thorough pricing research for the make and model you're interested in. Compare prices from various dealerships and online platforms. Having a clear understanding of the fair market value will help you negotiate a reasonable price for the vehicle.
Financing Options
If you're considering financing your purchase, research available financing options before visiting the dealership. Check your credit score and seek pre-approval for a car loan. This will give you a better idea of the interest rates and loan terms you qualify for, allowing you to negotiate better financing deals.
Warranty and Service Contracts
Inquire about the vehicle's warranty coverage and any available service contracts. A comprehensive warranty can provide added protection and save you money on future repairs. Understand the terms and conditions of the warranty to ensure it meets your needs.
Customer Reviews and Reputation
Before finalizing your decision, research the dealership's reputation and customer reviews. Check online platforms and review websites for feedback from previous customers. A dealership with a positive track record and excellent customer service is more likely to offer a positive car-buying experience.
Trust Your Instincts
Finally, trust your instincts when dealing with the sales staff and inspecting the vehicle. If something feels off or too good to be true, don't hesitate to ask for clarifications or consider exploring other options. The right car and dealership will align with your needs and preferences seamlessly.
Visiting car dealerships can be both thrilling and overwhelming, but with the right checklist in hand, you can navigate the process confidently. From meticulously inspecting the vehicle's exterior and interior to conducting a thorough test drive, every step is essential in making an informed purchase. Do your research, evaluate pricing, and consider financing options before setting foot in the dealership. Ultimately, trust your instincts and seek a dealership with a positive reputation and customer-oriented approach. Armed with this comprehensive checklist, you're now ready to embark on your car-shopping journey with confidence! Happy car hunting!
Copyright © 2020-2021 | iGOTCARS