Some Reasons Why Nissan Z Is Buyer's First Choice At Pensacola Auto Dealer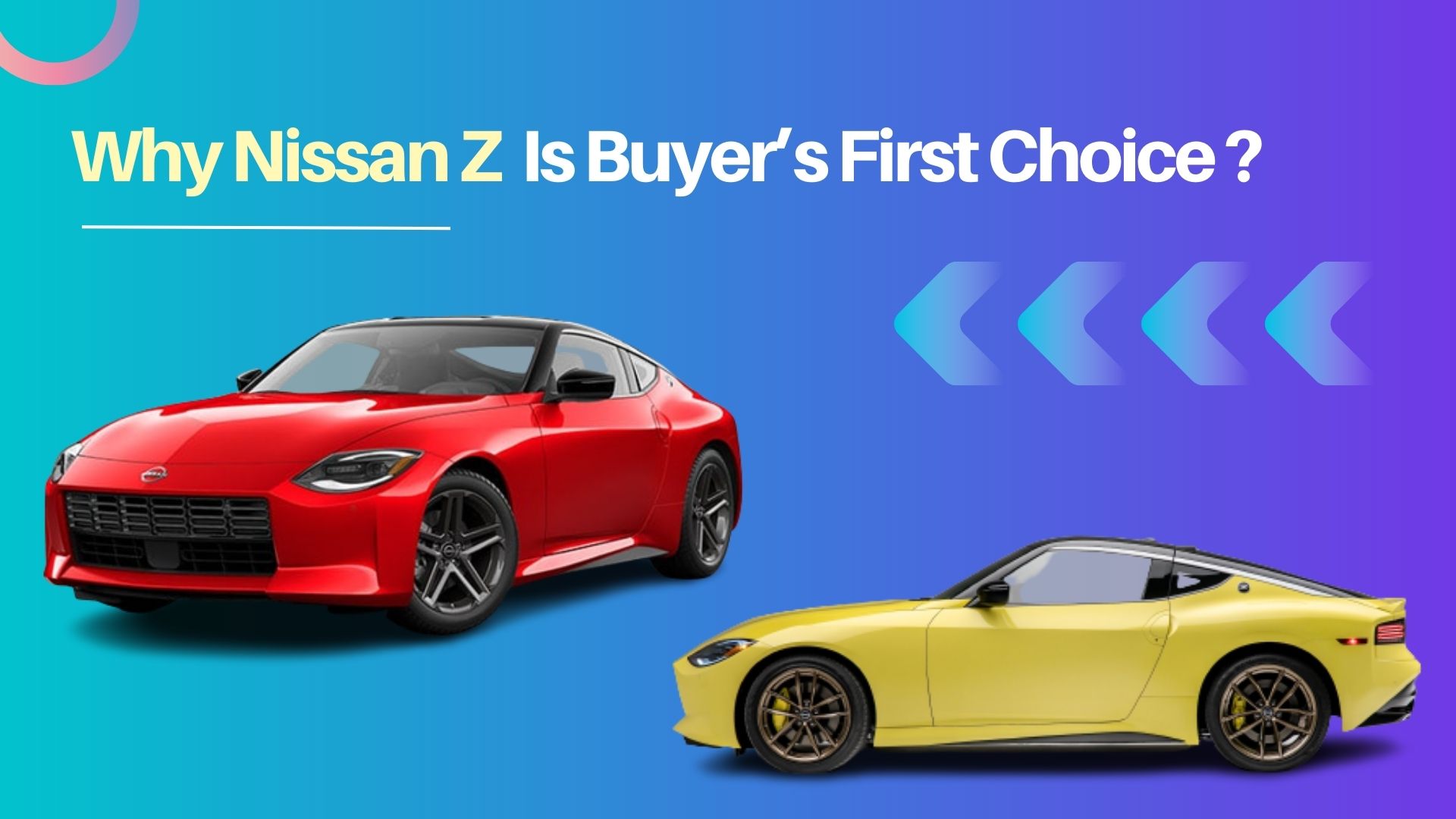 Nowadays, everyone wants to have a good look and a sporty vehicle, especially if you are a teenager. Having a sporty car is a symbol of richness, and people get impressed by you. Though sports car is quite expensive, here we will talk about sporty look vehicle that you can purchase from Pensacola auto dealers at a reasonable price.
By the late 60s, Europe had established many sports car companies, but Japan was focused on building affordable everyday cars except for the Toyota 2000GT. Car makers launch new models every day, and this is the same happened with Nissan Z. Nissan Z, also known as the Nissan Fairlady Z, which is a sports car that has been popular among car enthusiasts since its debut in 1969. The car has gone through much iterations over the years, with the latest version being the Nissan 400Z, which is set to release in 2023. If you are in Florida and looking for Buying a used car in Florida, then the Nissan z is best for you. Here, we will discuss some reasons why Nissan Z is a buyer's first choice.
Impressive Safety And Driver Assistance
Everyone wants to buy a car with lots of safety features to prevent themselves and their family from any unwanted situation. Nissan offers the new Z along with high-tech and advanced safety and driver assistance features to enhance driver confidence in its capability. The car has some features, including automatic emergency braking, blind spot warning, rear cross-traffic alert, high beam assist, and lane departure warning; these all features are for monitoring your car's environment and being ready to respond.
The intelligent cruise control makes the driver a breeze, and the car's front and back sonar sensors and rearview monitor help the driver to safe parking. Find the car lots Pensacola and get this high-tech feature vehicle now. Advanced safety features come with traction technology, advanced ABS, zone body construction, and six airbags.
Performance And Handling
One of the main reasons why Nissan Z is a popular choice among buyers is its performance and handling. The car is equipped with a powerful engine that delivers impressive acceleration and speed. The handling of the car is also excellent because of its precise steering and suspension system. The car's lightweight design and low center of gravity make it a joy to drive, providing a responsive and engaging driving experience.
Design And Style
Nissan Z has always been well known for its unique and stylish design. The car has sleek and aerodynamic body lines that are eye-catching, and its aggressive stance exudes a sense of power and confidence. The Nissan z is a combination of retro flavor along with a slick, modern silhouette, resulting in impressive looks. If you are a sports car lover, then Nissan z is a great choice for you, and you can get it by buying a used car in Florida from a dealership. The interior of the car is also designed to be both stylish and functional, along with comfortable seating, intuitive controls, and a premium sound system.
Nissan Z Vs. Rivals
The standard and great appearance Nissan Z is cheaper than the four cylinder supra, and that is the reason it is the buyer's first choice. This car beats the six-cylinder Toyota by almost 12 numbers, and that is the biggest achievement. It competes with many expensive sports vehicles like BMW m240i, Audi TTS, and Porsche Cayman. In this car, the driver gets a fully digital 12.3-inch performance display that shows some information. It has some customized modes like normal mode and sports mode that many rivals don't offer. You can tell your used car dealer Pensacola FL , about these options and choose to add them. This car provides many more advanced functions and high-tech features than its rivals.
Affordability
Everyone wants to buy a sporty look car, but it is expensive, but you can buy a Nissan z and enjoy your ride at an affordable price. Compared to other sports cars in its lineup, the Nissan Z is relatively affordable, making it an attractive option for buyers who want a high-performance car without breaking the bank. If you are looking for selling a used car in Florida and buying a pre-owned vehicle, then you will get a discount on your purchase, and you can save some dollars. The car's price point is lower than its competitors, such as the Porsche 911 or the BMW Z4, while still providing excellent performance and handling. If we talk about the average, then it will be available for $31000, so you can easily afford it.
Reliability And Durability
Nissan is popular for producing reliable and durable cars, and the Nissan Z is no exception. The car is built to last, with quality materials and good components that can withstand the rigors of daily driving. The car's engine and transmission are also designed to be reliable, ensuring that the used cars in Bradenton Florida run smoothly for years to come.
Customization Options
One of the most significant advantages of buying a Nissan Z is the wide range of customization options available. Owners can personalize their cars with a range of aftermarket parts and accessories, including body kits, exhaust systems, suspension upgrades, and more. This allows buyers to make their Nissan Z truly their own, reflecting their unique style and personality.
Community And Support
Owning a Nissan Z also means joining a community of passionate car enthusiasts who share a common interest in the car. There are numerous online forums and clubs dedicated to Nissan Z owners, providing a platform for sharing knowledge, experiences, and tips. Nissan also offers excellent support for its customers, including warranties and service plans, ensuring that owners can enjoy their cars with peace of mind. You can find used car dealerships in Pensacola Florida, and get this sports car at a reasonable price.
Responsive Technology And Connectivity
The Nissan Z car is as modern and classic as any new sports car in the market. It comes with many technology and connectivity features to make your drive effortless, and you can enjoy it with your family. The performance model has a 9-inch touchscreen center display along with a smaller 8-inch on the standard model. When you buy this vehicle, then you will get the latest logical infotainment system, pleasing graphics, and clean menus. The Nissan z also has android auto, wireless apple carplay, wifi hotspot, and Bluetooth.
Which Model Of Nissan Z Is Best?
As you have read above, Nissan launched so many models over the years. Every model has its unique features and different style, so you need to choose it as per your requirement. Choosing the best model of the Nissan Z car depends on personal preference and individual needs, and you can purchase this car from the best used car dealers in Florida. Here you will learn about the best model among all models of Nissan z. So, without wasting time, let's start.
One of the most prominent models of the Nissan Z car is the 370Z, which has been in production since 2009. The 370Z has a 3.7-liter V6 engine that can generate up to 332 horsepower and 270 lb-ft of torque. It also comes with a sport-tuned suspension, which offers excellent handling and a smooth ride. The Nissan 370Z is available in several different trims, including the base model, the Touring, the Sport, and the Nismo. Each trim offers a unique set of features and options that allow buyers to customize the car as per their choice.
Another popular model of the Nissan Z car is the 350Z, which was in production from 2003 to 2009. The 350Z comes with a 3.5-liter V6 engine that can produce up to 306 horsepower and 268 lb-ft of torque. It also has a sport-tuned suspension, which offers excellent handling and a smooth ride. You can easily buy this vehicle from car dealerships near Pensacola FL. The Nissan 350Z is available in several different trims, including the base model, the Touring, and the Grand Touring. Each trim offers a unique set of features and options, allowing buyers to customize the car to their liking.
Overall the best model of the Nissan Z car depends on your individual needs and preferences. If you are looking for the latest technology and features, then the 370Z might be the best choice for you. If you are looking for a classic sports car with a proven track record, then the 350Z might be the best choice for you. It is important to test-drive different models and trims to determine which one best suit your needs and budget. If you have a low budget and want to buy a Nissan z, then you can go for the old model. Some dealerships in Pensacola FL , offer old models at very low prices.
Conclusion –
So these are some reasons to purchase the Nissan Z; you can search by yourself to know more about the vehicle. You can search on the internet, and here you will get so many options of the best used car dealer Pensacola that offer this vehicle. You can ask your dealer any doubt if you have related to a vehicle.
Copyright © 2020-2021 | iGOTCARS