Ram 2500 Pros Vs Cons, Should You Purchase It?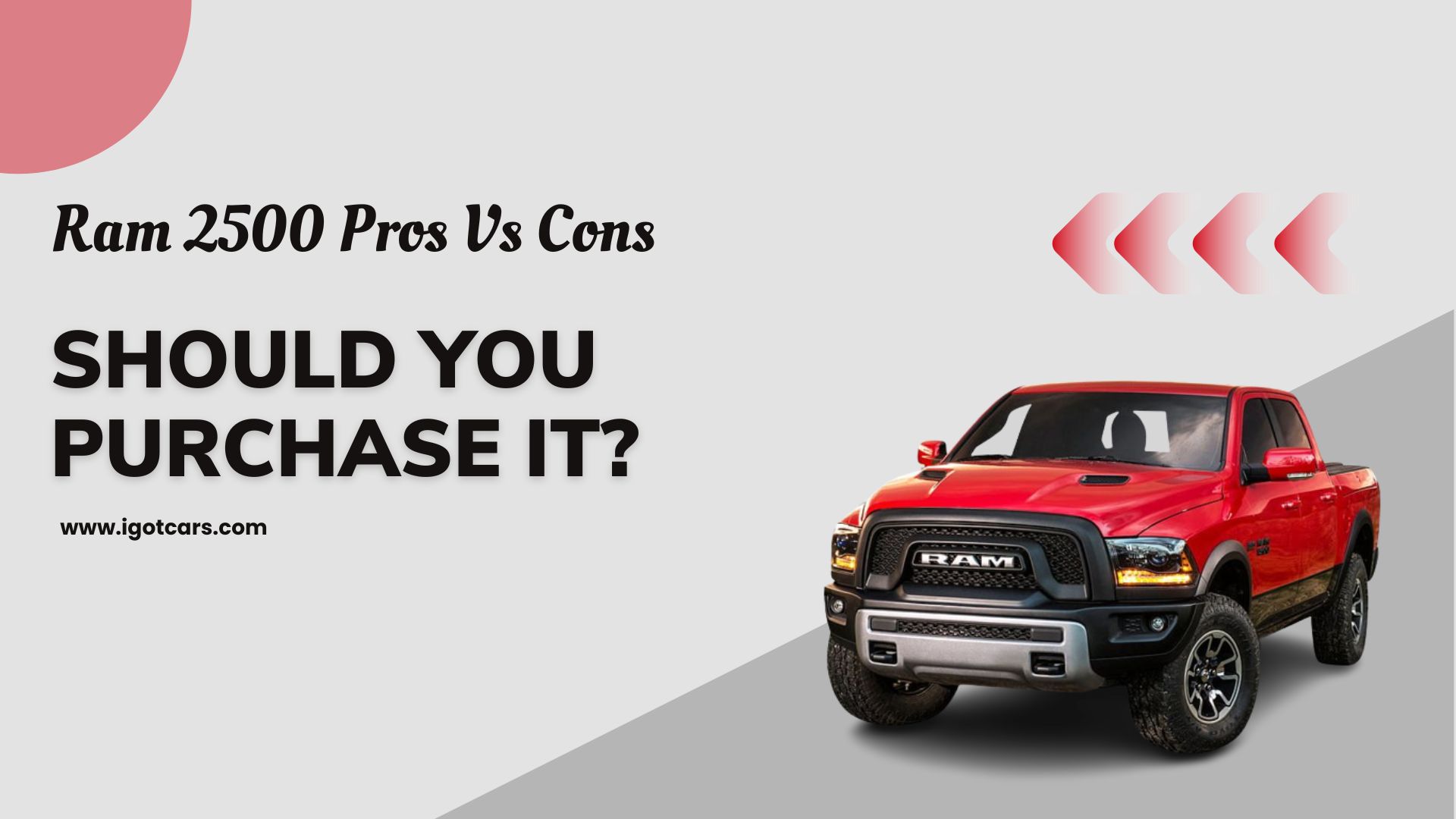 Everyone wants to buy vehicles for their business purpose and daily use. People who want to purchase a vehicle for hauling large stuff then they need to purchase a truck. If you have a tight budget then you can prefer used cars and purchase any quality vehicles from Car lots near me. Before buying vehicles, buyers want to know everything about them. So here we will discuss Ram 2500 pros and cons so without wasting time let's start.
Nowadays, a full-size, light-duty pickup truck is one of the most famous cars on the highway in Texas. Sometimes, their capabilities and power just are not sufficient for the type of work you require to do. That's where heavy-duty trucks like the 2021 Ram 2500 are a great option. It offers great hauling and towing capabilities when compared to its light-duty 1500 rival and counterpart. The Ram's 2500 comes with one of the most comfortable and upscale interiors in its lineup. Before buying vehicles if you want to sell your old car then you can choose dealers' used convertibles for sale. Whether you are searching around on the job site or going for a long road trip, the Ram 2500 is best in comfort and style. There are many reasons to purchase it and here you will know them.
Pros Of Buying The Ram 2500 Truck
Power And Performance
The Ram 2500 is a heavy-duty pickup truck designed for those who need maximum power and performance. The standard 6.4-liter HEMI V8 engine can produce 410 horsepower and 429 lb-ft of torque. This power is enough to tow up to 17,980 pounds with a maximum payload capacity of 4,010 pounds. The available 6.7-liter Cummins Turbo Diesel engine generates 370 horsepower and a staggering 850 lb-ft of torque, which can tow up to 19,680 pounds. You can purchase this high-performance truck from a tx auto dealer at an affordable cost.
Versatility
The Ram 2500 is made to meet the needs of a variety of customers. It is available in several configurations, including regular cab, crew cab, and mega cab, with a choice of 6'4″ or 8′ box lengths. The truck is also available with either a two-wheel or four-wheel drive system.
Interior Comfort
The 2021 Ram 2500 is not only tough on the outside but also comfortable on the inside. The cabin is spacious, and the seats are comfortable, providing excellent support for long trips. The truck is also available with an impressive range of features, including a Uconnect infotainment system, heated and ventilated front seats, and a heated steering wheel. This car has many optional features that you can add but you have to pay a few dollars extra for them. If you want to purchase trucks without worry you just need to visit auto dealers near me.
Features To Keep You Safe
Safety is a top priority when driving a vehicle and the Ram 2500 does not disappoint. It is equipped with lots of safety features, including adaptive cruise control, forward collision warning, and lane departure warning. Additionally, the truck has a robust frame and advanced airbag systems to protect passengers in the event of an accident. It has traction control that makes sure every wheel gets the right amount of energy to keep you moving safely forward, even over slick or wet pavement.
Off-Road Capability
The Ram 2500 is a capable off-road vehicle, thanks to its high ground clearance, sturdy frame, and available four-wheel-drive system. It is also available with an off-road package that includes features such as skid plates, tow hooks, and an electronic locking differential. To purchase quality vehicles, you need to find the best place to buy used cars.
Durability
The Ram 2500 is built to last. It has a high-strength steel frame and a rugged suspension system that can handle the toughest jobs. In addition, the truck is made with a durable exterior that can withstand harsh weather conditions, making it an excellent choice for those who live in areas with extreme climates. If you want to purchase a vehicle that offers great performance in all-weather then the Ram 2500 truck is the best car for you.
Fuel Efficiency
Despite its power and performance, the Ram 2500 is surprisingly fuel-efficient. The 6.4-liter HEMI V8 engine is connected with fuel-saving technology that shuts off four of the cylinders when they are not needed. If you have a low budget and want to get a car loan so you just need to find buy here pay here auto dealers near me. Before selecting any dealer, make sure you choose a dealer that offers financing facilities at good interest rates and an easy policy. The available 6.7-liter Cummins Turbo Diesel engine also offers excellent fuel economy, making it a cost-effective option for those who need to tow heavy loads regularly.
Customizability
The Ram 2500 is highly customizable, allowing owners to create a truck that meets their specific needs. It is available with an extensive range of accessories, including bed liners, toolboxes, and running boards, making it easy to create a truck that is tailored to your lifestyle. Before buying a truck make sure you know your requirements and expectations from vehicles so you can easily customize it. If you want to buy this truck with some benefits then you should choose a dealer that offers the best used cars for sale near me.
Brand Loyalty
Ram is a well-respected brand known for producing high-quality, reliable vehicles. By purchasing a Ram 2500, you are joining a loyal community of Ram owners who appreciate the brand's commitment to quality and performance. Moreover, Ram offers excellent customer service, making it easy to find support like servicing and repairing when you need it.
Cons Of Buying The Ram 2500 Truck
Above you have read some of the advantages of buying the Ram 2500 truck. Every vehicle comes with some negative and positive points and this truck is no exception. If you are going to purchase Ram 2500 then you should be aware of its cons. If your poor credit score holds you back from buying this truck then you need to select no credit check auto dealers near me so you can easily get your dream vehicle. So without wasting time let's start.
Poor Fuel Economy
The Ram 2500 is a large truck that is known for its power and towing capabilities. However, this comes at a cost when it comes to fuel efficiency. The Ram 2500 has an average fuel economy of around 15 miles per gallon, which is significantly lower than many other trucks on the market. This means that you will end up spending more on gas if you go for a Ram 2500 over a more fuel-efficient vehicle.
High Maintenance Costs
As with any heavy-duty vehicle, the Ram 2500 requires regular maintenance to keep it running smoothly. If you don't want to spend much on maintenance then you need to get quality vehicles from dealers that offer no credit check used cars near me. However, due to its size and complexity, the Ram 2500 can be more expensive to maintain than other vehicles. For example, the cost of replacing tires or brakes on a Ram 2500 is likely to be higher than on a smaller vehicle. Additionally, the cost of repairs can be significant if something goes wrong with the engine or transmission.
Difficult To Park
Another drawback of the Ram 2500 is its size. This truck is not easy to park in tight spaces, which can be a significant disadvantage if you live in a city or frequently need to navigate through crowded areas. The Ram 2500's large turning radius can also make it difficult to maneuver in small spaces, which can be frustrating and time-consuming. Though, if you have a large parking area then you can purchase it from bad credit used cars near me dealers.
Not The Best Choice For Daily Driving
While the Ram 2500 may be a powerful work vehicle, it may not be the best choice for daily driving. The truck's size and weight can make it more challenging to handle on the road, especially if you are not used to driving large vehicles. Additionally, the Ram 2500's suspension is designed for heavy loads, which can make for a bumpy and uncomfortable ride when the truck is empty.
Expensive To Purchase
If you have a budget-related problem then you can purchase used cars in house financing. The Ram 2500 is not a cheap vehicle to purchase. The base model starts at around $34,000, but the price can quickly escalate depending on the features and options you choose. For example, if you opt for a higher trim level or a larger engine, the price can easily exceed $50,000. This is a significant investment, especially if you do not need the truck's towing or hauling capabilities on a regular basis.
Conclusion-
Here you have read the pros and cons of buying a Ram 2500 so before making a decision of buying used cars near me bad credit, make sure you think properly. This is the best investment if you want to purchase a vehicle for commercial business purposes.
Copyright © 2020-2021 | iGOTCARS