Pros And Cons Of Buying The 2021 Hyundai Kona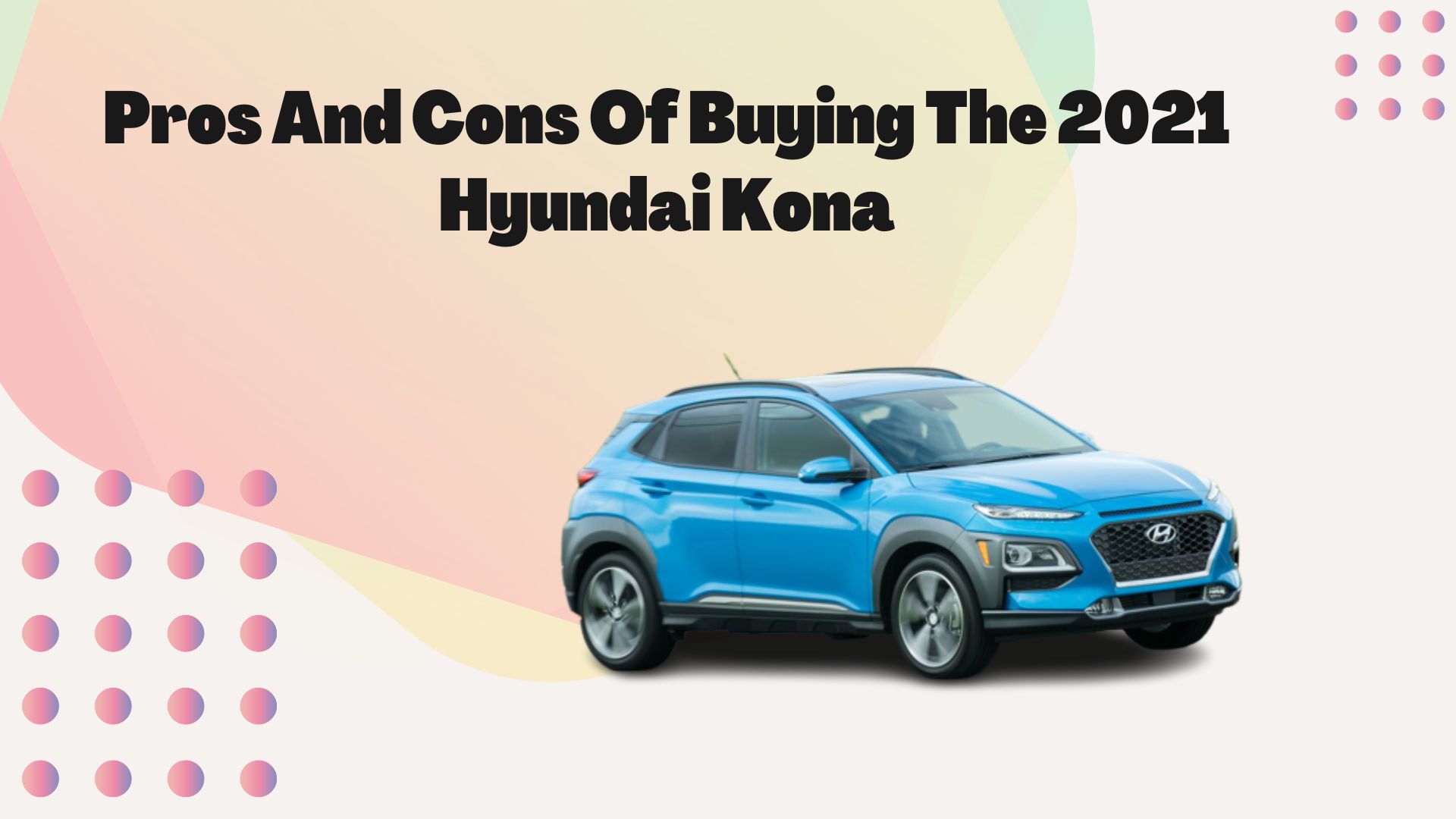 Nowadays, Hyundai has become an increasingly popular vehicle brand among buyers. This is because they provide hard-to-beat value and above-average reliability. It is not hard to find this car in the market you can easily find by visiting a tx auto dealer in USA. When we talk about the 2021 Hyundai Kona then there is not too much update for this model. This car is still in its first generation that launched in 2018. It discontinued two of its more eye-catching paint colors known as lime twist and sunset orange. This year you will see the new night edition that comes with nice exterior and performance features into a brand new trim level. The small and somewhat quirky Kona is an excellent choice for many reasons. It provides a high-class experience for a lower price as compared to many of its competitors. The 2021 Hyundai Kona is also a lot of fun to look at but at the same time, there are a few areas where this vehicle falls short. 
Before buying a vehicle many people avoid this part because they think it is not important but when you know the pros and cons of buying a vehicle then you have peace of mind that you are investing money at the right place. Along with knowing about vehicles, it is essential to find the best place to buy used cars. Here we will discuss some of the pros and cons of buying the 2021 Hyundai Kona that will help you in your car purchasing process. 
Pros Of Buying Hyundai Kona
Stylish Exterior Design
The Hyundai Kona stands out with its bold and unique design. Its sleek and modern appearance, with sculpted lines and aggressive front grille, gives it a distinctive presence on the road. The available two-tone color options further enhance its visual appeal, making it an attractive choice for those who value style.
Spacious And Versatile Interior
Despite being a compact SUV, the Kona offers a surprisingly spacious and well-designed interior. It comfortably accommodates five passengers, with ample legroom and headroom for both front and rear passengers. The rear seats can also be folded down to create additional cargo space, making it versatile enough to handle different passenger and cargo needs. If you want to purchase this car without any worry then you should look for auto sales near me. 
Advanced Safety Features
The 2021 Hyundai Kona comes equipped with a wide range of advanced safety features. These include forward collision avoidance assist, lane keeping assist, blind-spot collision warning, rear cross-traffic collision warning, and driver attention warning. These features help to enhance the safety of both the driver and passengers, providing peace of mind on the road.
User-Friendly Infotainment System
The Kona features a user-friendly infotainment system with an 8-inch touchscreen display. It supports both Apple CarPlay and Android Auto, allowing seamless integration with smartphones. The system is intuitive and responsive, making it easy to navigate through menus and access various functions.
Impressive Fuel Efficiency
The Hyundai Kona offers excellent fuel efficiency, especially with its available Eco mode. The base model comes with a 2.0-liter four-cylinder engine, which delivers an EPA-estimated 27 mpg around the city and 33 mpg on the road. The available turbocharged engine option provides a good balance of performance and fuel economy so purchase these used cars no credit check now and enjoy your ride. 
Agile Handling And Comfortable Ride
The Kona offers a well-balanced driving experience with its agile handling and comfortable ride quality. The suspension system effectively absorbs bumps and road imperfections, ensuring a smooth and enjoyable ride. The compact size of the Kona also makes it easy to park in tight city streets and parking lots.
Available All-Wheel Drive
For those who frequently drive in challenging weather conditions or off-road, the Kona offers an available all-wheel-drive system. This system enhances traction and stability, providing better control in adverse road conditions. It adds an extra layer of confidence and capability to the vehicle.
Comprehensive Warranty Coverage
Hyundai is known for its industry-leading warranty coverage, and the 2021 Kona is no exception. It comes with a 5-year/60,000-mile limited warranty and a 10-year/100,000-mile powertrain warranty. This warranty coverage provides peace of mind and reflects the manufacturer's confidence in the quality and reliability of the vehicle. Along with warranty coverage, you will get a few free maintenance and services when you get it from a used car dealer near me. 
Advanced Technology Features
The Hyundai Kona offers a range of advanced technology features that enhance convenience and connectivity. These include wireless charging, a head-up display, a premium sound system, and a proximity key with push-button start. These features add to the overall comfort and convenience of the vehicle.
Competitive Pricing
The 2021 Hyundai Kona offers good value for its price point. It provides a range of features and capabilities typically found in higher-priced vehicles. The starting price of the base model is competitive compared to other vehicles in its class, making it an attractive option for budget-conscious buyers.
Strong Reliability And Resale Value
Hyundai vehicles have a reputation for strong reliability, and the Kona is no exception. Along with a great reliability rating this vehicle is known for high resale value. People who want a good return on their used vehicle are a great option. This is a good investment so purchase this car from Automobile dealerships near me now. 
Cons Of Buying The 2021 Hyundai Kona
Above you have read pros of buying the 2021 Kona but now we will discuss cons of it that you should consider while buying it so let's begin. 
Limited Cargo Space
The Hyundai Kona's compact size comes with a trade-off in terms of cargo capacity. The rear cargo area is relatively small compared to other vehicles in its class, making it less suitable for carrying larger items or accommodating passengers with substantial luggage.
Rear Seat Space
While the Kona provides comfortable seating for the front occupants, the rear seats can feel cramped, especially for taller passengers. Legroom and headroom in the back may be inadequate, affecting the overall comfort for rear-seat passengers during longer journeys.
Ride Quality
Some drivers and passengers may find the ride quality of the Kona to be less refined compared to other vehicles in its class. The suspension can feel firm and transmit road imperfections into the cabin, resulting in a less comfortable ride, especially on rough or uneven surfaces.
Engine Performance
The base engine in the 2021 Hyundai Kona is a 2.0-liter four-cylinder, which can feel underpowered during acceleration and highway passing maneuvers. While there is an optional turbocharged engine available, it comes at an additional cost and may not be as fuel-efficient. You can select this engine to get high performance by purchasing a vehicle from buy here pay here auto dealers near me. 
Fuel Efficiency
While the Kona's fuel efficiency is generally competitive, it falls short compared to some of its rivals. The EPA-estimated fuel economy ratings for the base engine are decent but not class-leading, and opting for the more powerful turbocharged engine can result in reduced fuel efficiency.
Road Noise
The Kona's cabin insulation could be improved, as some owners have reported excessive road noise entering the cabin. This can detract from the overall driving experience, especially on highways or rougher road surfaces.
Lack Of Advanced Safety Features
While the 2021 Hyundai Kona does offer some standard safety features, it falls behind some of its competitors when it comes to advanced driver-assistance systems. Features such as adaptive cruise control, lane-keeping assist, and automatic emergency braking may not be standard on lower trim levels or may require additional packages. If you need this optional feature then you need to pay extra dollars to purchase these used cars with financing near me. Some buyers don't add this package because they don't use many features. 
Infotainment System
While the Kona's infotainment system offers decent functionality, some users have found the interface to be less intuitive or slower to respond compared to competitors' systems. The screen size on the base trim is also smaller, limiting visibility and potentially reducing ease of use.
Limited Towing Capacity
If you are looking to tow heavy loads, the Kona may not be the best choice. It has a relatively low towing capacity compared to some of its rivals, which may limit its utility for those with towing needs.
Depreciation
While the Hyundai Kona is generally considered reliable, it is worth noting that Hyundai vehicles, in general, have a reputation for depreciating faster than some of their competitors. This could potentially affect the vehicle's resale value and long-term cost of ownership.
Conclusion-
Here you have known the pros and cons of purchasing the 2021 Hyundai Kona that will help you to make a decision. If you want to get a great car buying experience then you should select trustworthy auto dealers near me and also make sure you fix your budget before going to the showroom. Some people forget about the budget and invest more than that but you need to stick to it to avoid consequences. 
Copyright © 2020-2021 | iGOTCARS