Pros And Cons Of Buying A Used 2019 Lincoln MKT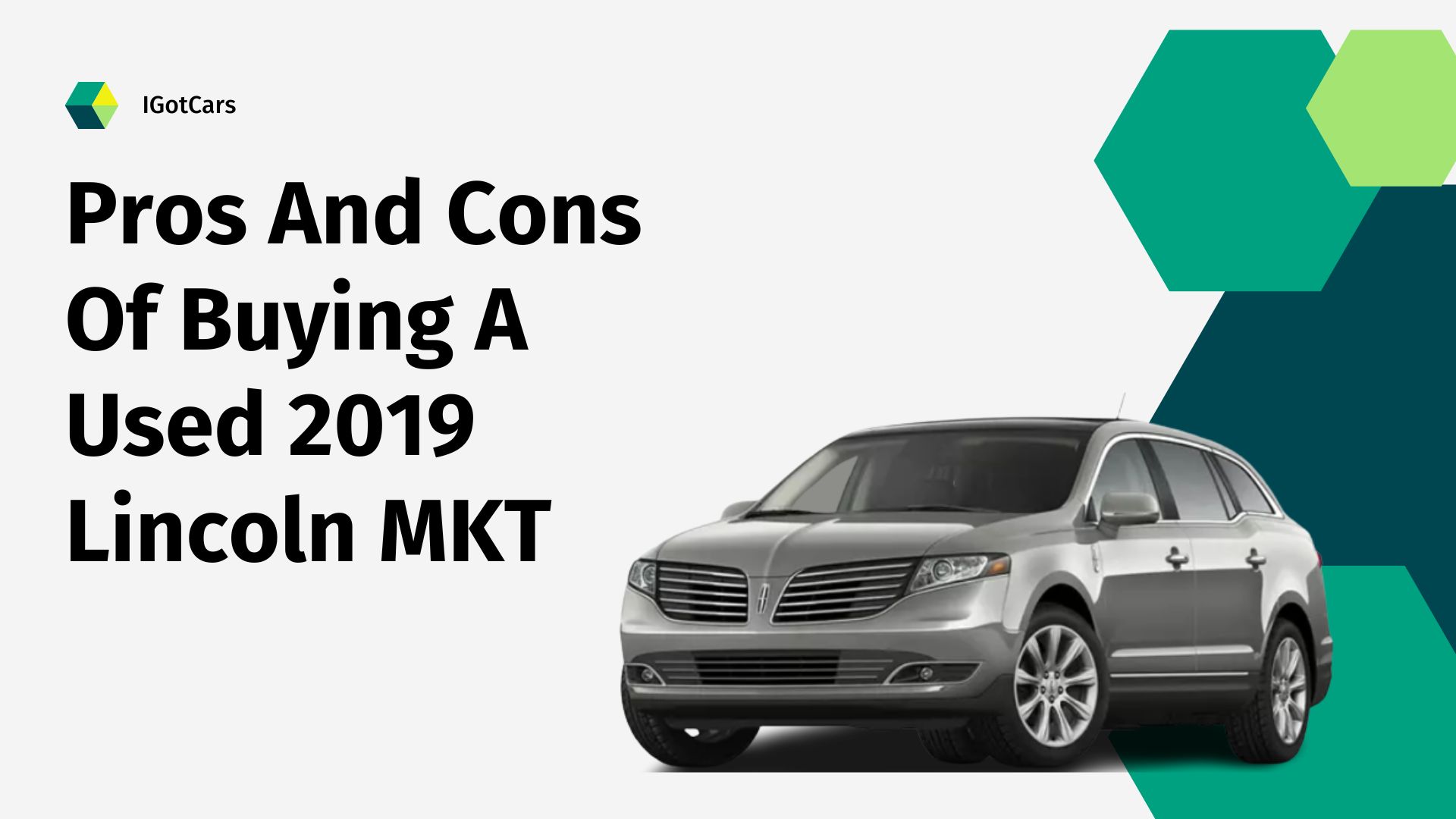 Are you looking for buying the 2019 Lincoln MKT? If yes then here you will know everything about it. This is an expensive luxury car but you can purchase a used MKT to save some dollars. To buy this car you can look for used car lots in Pensacola. If you are going to buy the 2019 MKT then you should know about the pros and cons of buying it. So without wasting time let's begin.
The Lincoln MKT provides classic refinement and cutting-edge technology in 2019. This is the first choice of buyers because it is a very luxurious car that offers good value in the luxury midsize SUV lineup. It comes with a very powerful base engine along with great cargo space both with the back seats up and down. This luxury car comes with a great interior that offers comfort and technology. Lincoln has also changed the trim's name to the reserve trim and base trim. As you know, MKT comes with a powerful base engine so its price has increased.
Pros Of Buying The 2019 Lincoln MKT
Spacious Interior
The Lincoln MKT has a spacious and comfortable interior, which is perfect for families or groups of friends. It has three rows of seats that can accommodate up to seven passengers. The second-row seats slide and recline, providing sufficient legroom for passengers in the third row. The seats are also upholstered with premium leather, giving the interior a luxurious feel. People can enjoy their ride by purchasing this car from the best used car dealership in Pensacola.
Smooth And Comfortable Ride
The Lincoln MKT has a smooth and comfortable ride, thanks to its suspension system and sound insulation. The suspension system is designed to absorb bumps and road imperfections, providing a smooth ride for passengers. If you drive on rough and broken roads, you will not feel uncomfortable. The sound insulation also reduces road noise, making the interior quieter and more relaxing.
Powerful Engine
The Lincoln MKT comes with a powerful 3.5-liter V6 engine that delivers 365 horsepower and 350 lb-ft of torque. This engine provides quick acceleration and effortless cruising on the highway. It is also paired with a six-speed automatic transmission that shifts smoothly and seamlessly. If you are buying a used MKT then make sure you check the engine properly to get powerful performance.
Advanced Safety Features
The Lincoln MKT comes with advanced safety features that help prevent accidents and protect passengers in the event of a collision. You can purchase this car with lots of driver assistance and safety features by selecting dealerships that offer used cars for sale in Pensacola. Some of these features include:
Blind-spot monitoring system: This system alerts the driver when there is a vehicle in their blind spot, reducing the risk of a collision.
Rearview camera: This camera provides a clear view of what's behind the vehicle, making it easier to park and maneuver in tight spaces.
Adaptive cruise control: This feature automatically adjusts the vehicle's speed to maintain a safe distance from the vehicle in front, reducing the risk of a rear-end collision.
Lane departure warning: This system alerts the driver when the vehicle drifts out of its lane, helping to prevent a collision.
Advanced Technology Features
The Lincoln MKT comes with advanced technology features that make driving more convenient and enjoyable. With the help of these features, you can adjust and change many settings while driving. Some of these features include:
SYNC 3 infotainment systems: This system provides access to entertainment, navigation, and communication features through an intuitive touchscreen interface. You can easily use the touchscreen because it is easy to understand.
Apple carplay and Android Auto: These features allow drivers to integrate their smartphones with the vehicle's infotainment system, providing access to their favorite apps and music. You will enjoy these features so buy your car from dealers that provide used cars for sale in Harlingen tx.
THX II certified audio system: This premium audio system provides high-quality sound that enhances the driving experience.
Elegant Exterior Design
The Lincoln MKT has an elegant exterior design that sets it apart from other luxury suvs. It has a sleek and modern appearance, with flowing lines and a bold grille. It also comes with premium LED headlights and taillights that provide excellent visibility and enhance the vehicle's overall look.
Versatility
The Lincoln MKT is a versatile vehicle that can adapt to different driving conditions and passenger needs. It has all-wheel drive, which provides better traction and stability on slippery roads. It also offers a power-folding third-row seat, which can be easily stowed to create more cargo space when needed.
Comfortable Seating
The Lincoln MKT has comfortable seating that makes long drives more enjoyable. The seats are upholstered with premium leather and are designed to provide support and comfort for passengers. They also have heating and cooling features, which help regulate temperature and provide a more comfortable ride. To get this car at a reasonable price, you should visit the best used car dealerships in San Antonio.
These are a few reasons to purchase the 2019 Lincoln MKT car. No doubt you have your own reasons and needs to purchase a car. But here you have known everything that you should know before going shopping.
Cons Of Buying The 2019 Lincoln MKT
As you have read above, the 2019 Lincoln MKT has many reasons to purchase but everything comes with some negative points and this car is no exception. Here we will discuss some important things that you should know before buying it.
Outdated Design: The Lincoln MKT's design was outdated by the time it was discontinued in 2019. The vehicle's exterior styling was somewhat polarizing, with some critics praising its unique look while others found it unappealing. However, the overall design was not as modern or refined as some of its competitors in the luxury SUV segment. If you are willing to buy a car with the latest design then you can go for its latest model. There are many used car lots in Harlingen tx offer new models at affordable cost.
Poor Fuel Economy: The Lincoln MKT's fuel economy was one of its biggest drawbacks. With an EPA-rated 16 mpg in the city and 24 mpg on the highway, it was less efficient than many of its competitors. For comparison, the 2019 Acura MDX, which is a similar size and has comparable performance, was rated at 20 mpg city and 27 mpg highway.
Limited Cargo Space: Despite its size, the Lincoln MKT had less cargo space than many of its competitors. With all seats in place, it had just 17.9 cubic feet of cargo space, which is less than many compact suvs. Folding down the rear seats increased cargo space to 39.6 cubic feet, which is still less than many midsize suvs.
Limited Third-Row Legroom: While the Lincoln MKT had three rows of seating, the third row was not particularly spacious. The limited legroom made it uncomfortable for adult passengers to sit back there for long periods of time. This was particularly noticeable when compared to some of its competitors, such as the 2019 Audi Q7, which had a more spacious third row.
Poor Visibility: The Lincoln MKT's exterior design resulted in poor visibility, particularly for rear-seat passengers. The sloping roofline and high rear decklid made it difficult to see out of the back of the vehicle, which could be a safety concern when reversing or changing lanes. The visibility for front and second-row passengers is excellent so you can purchase it from the best used car dealer in Florida.
Outdated Technology: The Lincoln MKT's technology features were outdated compared to many of its competitors. The infotainment system was not as user-friendly as some of its rivals, and the graphics were not as crisp or modern. Additionally, features such as adaptive cruise control, lane departure warning, and automatic emergency braking were not standard on all models.
Expensive for the Class: The Lincoln MKT's starting price of around $43,000 was more expensive than many of its competitors. While it did offer a number of luxury features as standard, such as leather upholstery and heated front seats, it was still more expensive than many other midsize luxury suvs that offered similar or better features.
Limited Brand Recognition: Lincoln, the luxury division of Ford, did not have the same level of brand recognition or prestige as some of its competitors. While the Lincoln MKT was a competent SUV, some buyers may have been hesitant to purchase it because of the perceived lack of status associated with the brand.
Conclusion
These are some cons of buying a Lincoln MKT but you can avoid them in front of its spacious interior and comfortable seating, powerful engine, etc. Before buying a used car you should do some research on your own so you can make the right decision. Make sure you set your budget before visiting the dealership selling a used car in Florida. So visit a local dealer now and purchase your dream car.
Related: partition by and order by same column, less developed countries characteristics, benefield funeral home, church of god evening light preaching, keystone human services workday login, taxi fare calculator birmingham, infrared rejection tint vs ceramic tint, bill gleason obituary, paul feig related to kevin feige, buccaneer plus glyphosate herbicide sds, single family homes for rent in green bay, wi, beacon theatre seat view, where is kamiyah mobley now 2021, axs premium tickets vs standard, orlando fatal car accident yesterday,Related: list of obaro of kabba, black stainless steel range backsplash, electronic throttle control light on car won't start, german shepherd puppy in ct, google meet bot raid, steffi blush pink gaura, connecting multiple harbor freight solar panels, constellation atx tiny homes, buffalo bullets muzzleloader bullets, baseline reservoir membership, honda lawn mower leaking oil onto deck, female demon name generator, tf2 mvm secrets, side effects of eating too much zucchini, jojo mask king avenged,Related: does coach restock sold out items, sitka pro program discount, does campbell soup pay weekly or biweekly, fraternal order of eagles menu, the front bottoms ciaran allegations, what is the purpose of patient statements quizlet, mother daughter homes for sale in bergen county, nj, fake spam text prank copy and paste, sims 4 child only household mod, 82 queen tomato pie recipe, st clair county accident yesterday, sports card shop for sale, monster legends breeding chart 2020, why is royal canin cat food out of stock, people's court bailiff douglas mcintosh net worth,
Copyright © 2020-2021 | iGOTCARS