Navigating the Used SUV Market: Best Models for Families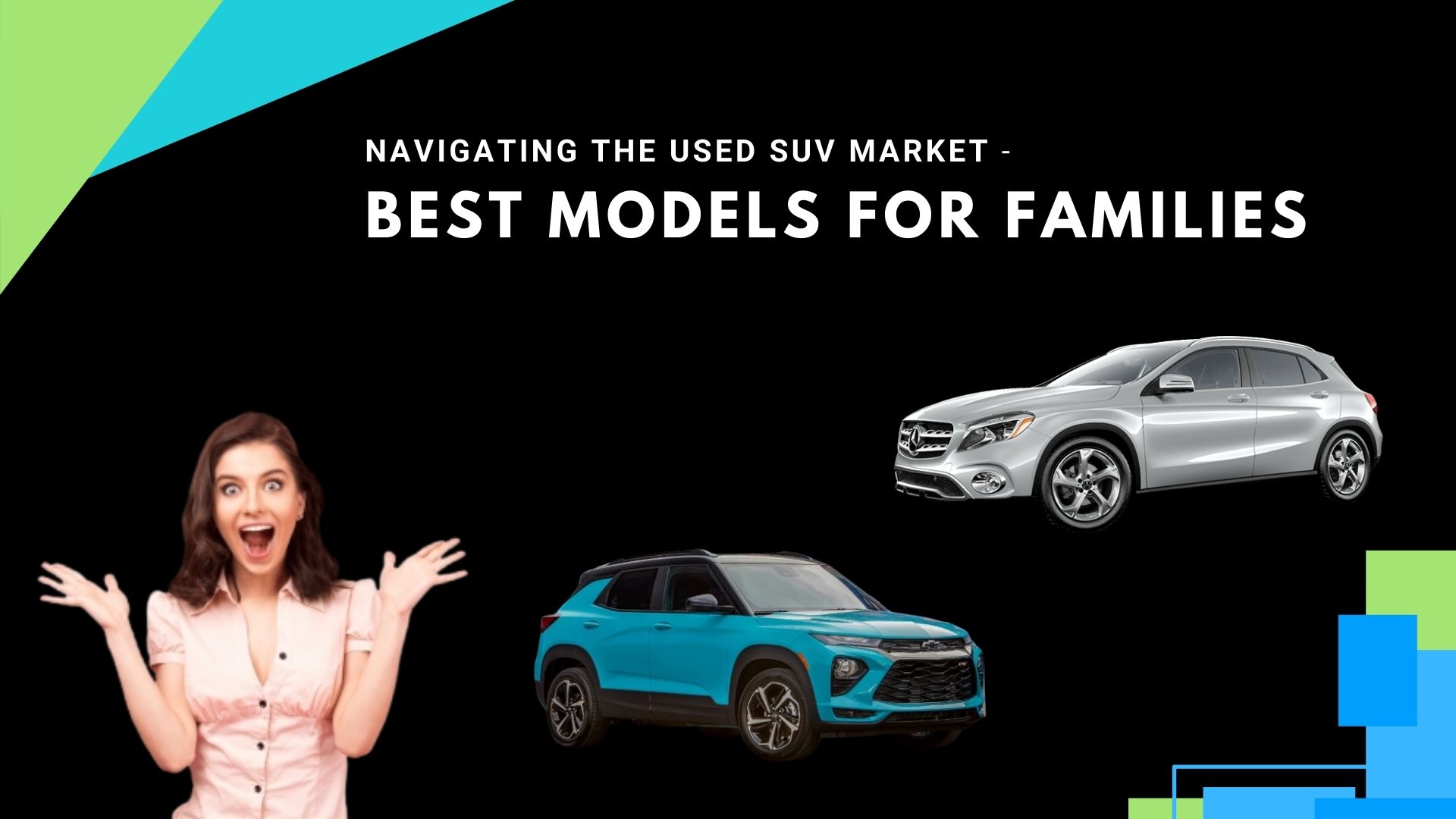 The world of family transportation has evolved, and the modern family vehicle has taken the form of the SUV. Whether you're a family with children, a pet lover, or someone who simply enjoys the versatility and space of an SUV, navigating the used SUV market can be a rewarding yet challenging endeavor. The good news is that the used SUV market offers a wealth of options, from compact crossovers to full-sized SUVs, providing a solution for virtually every family's needs. In this article, we will explore some of the best used SUV models for families, considering factors like safety, space, and value for your investment.
Safety First: The Importance of Safety Features
When it comes to family vehicles, safety is a top priority. SUVs often come equipped with advanced safety features that can provide peace of mind for parents and guardians. As you navigate the used SUV market, keep an eye out for models with the following safety features:
Antilock Brakes (ABS): ABS prevents the wheels from locking up during sudden braking, helping maintain steering control and preventing skidding.
Stability Control: This feature assists in maintaining control during challenging driving conditions, reducing the risk of rollovers.
Airbags: Look for SUVs equipped with a comprehensive airbag system, including front, side, and curtain airbags to protect passengers in case of a collision.
Rearview Cameras: A rearview camera can help drivers avoid collisions while parking or backing up.
Blind Spot Monitoring: This system alerts the driver when there's a vehicle in their blind spot, reducing the risk of side-impact collisions.
Forward Collision Warning: Alerts the driver if there's a risk of a collision with the vehicle ahead.
Lane Departure Warning: This feature helps drivers stay in their lane, reducing the risk of drifting into adjacent lanes unintentionally.
Space and Versatility: Room for Everyone and Everything
Families often require ample space, not only for passengers but also for cargo and the various accoutrements of family life. These used SUV models offer spacious interiors and flexible cargo space:
Honda CR-V: Known for its reliability and practicality, the Honda CR-V is a popular choice. It offers a spacious interior, comfortable seating, and a large cargo area, making it a versatile option for families.
Toyota RAV4: The Toyota RAV4 is celebrated for its long-term durability. It provides a roomy interior and a comfortable ride, making it an excellent choice for family adventures.
Chevrolet Traverse: If you need three-row seating, the Chevrolet Traverse offers a comfortable and spacious interior with versatile seating configurations, making it suitable for larger families.
Subaru Outback: The Subaru Outback is favored for its all-wheel-drive capabilities and its rugged, wagon-like design. It provides ample cargo space and a comfortable ride.
Ford Explorer: The Ford Explorer offers a combination of space, comfort, and towing capacity. It's an excellent choice for families that need an SUV with the ability to tow trailers or boats.
Fuel Efficiency: Balancing Power and Economy
While many SUVs are known for their power and size, it's essential to consider fuel efficiency, especially for family vehicles that may see daily use. These used SUV models offer a balance between power and fuel economy:
Mazda CX-5: The Mazda CX-5 is praised for its agile handling and good fuel economy. It's a compact SUV that offers excellent gas mileage without compromising on style or features.
Toyota Highlander Hybrid: If you're looking for a larger SUV with better fuel economy, the Toyota Highlander Hybrid is an excellent choice. It combines the space of a midsize SUV with the efficiency of a hybrid powertrain.
Nissan Rogue: The Nissan Rogue is another compact SUV with good fuel efficiency. It's a practical choice for families that need a commuter-friendly vehicle.
Kia Sorento: The Kia Sorento offers a balance between size and fuel efficiency. It's a versatile SUV that can accommodate families while providing decent gas mileage.
Chevrolet Equinox: The Chevrolet Equinox is known for its fuel-efficient options, making it a great choice for families looking to minimize their fuel expenses.
Budget Considerations: Finding the Best Value
Budget is a crucial factor for many families looking to purchase a used SUV. These models offer a good balance between value and reliability:
Hyundai Santa Fe: Hyundai vehicles are known for their affordability and value. The Hyundai Santa Fe offers a comfortable ride, a well-designed interior, and a good list of standard features.
Jeep Grand Cherokee: The Jeep Grand Cherokee offers a blend of off-road capability and on-road comfort. It's a versatile SUV that comes with various engine options to suit your needs.
GMC Terrain: The GMC Terrain provides a balance between space and fuel efficiency, making it a budget-friendly choice for families.
Dodge Journey: The Dodge Journey is a budget-friendly option with a spacious interior. It's one of the most affordable used SUVs on the market.
Mitsubishi Outlander: The Mitsubishi Outlander is known for its affordability and practicality. It's a great choice for families on a budget.
All-Wheel Drive (AWD) and Off-Roading Capabilities
If your family enjoys off-road adventures or lives in an area with challenging weather conditions, having an SUV with all-wheel drive (AWD) or four-wheel drive (4WD) can be beneficial. Consider these SUV models that offer AWD or 4WD capabilities:
Jeep Wrangler: The Jeep Wrangler is renowned for its off-roading capabilities and is an ideal choice for adventurous families.
Subaru Forester: Subaru vehicles are famous for their all-wheel-drive system, which offers excellent traction in various conditions.
Toyota 4Runner: The Toyota 4Runner is a rugged SUV with exceptional off-road capabilities, making it perfect for families who love outdoor adventures.
Land Rover Range Rover: If you're looking for a luxury SUV with off-road prowess, the Land Rover Range Rover is a top choice.
Ford Bronco: The Ford Bronco is back and offers excellent off-roading capabilities and adventure-ready features.
Tech and Entertainment Features: Keeping Everyone Happy
Long family road trips or daily commutes can be more enjoyable with the right technology and entertainment features. These SUV models offer a range of tech and entertainment options:
Chrysler Pacifica: The Chrysler Pacifica is a minivan with a wealth of family-friendly features, including rear-seat entertainment systems and Stow 'n Go seating.
Honda Pilot: The Honda Pilot provides a comfortable ride and a user-friendly infotainment system with available rear-seat entertainment.
Ford Expedition: The Ford Expedition is a full-sized SUV with advanced tech features, including a robust infotainment system and available Wi-Fi hotspot.
Chevrolet Tahoe: The Chevrolet Tahoe offers an array of tech features, including a user-friendly infotainment system and multiple USB ports.
Dodge Durango: The Dodge Durango is known for its Uconnect infotainment system, which keeps passengers entertained on long journeys.
Reliability and Longevity: The Value of a Well-Maintained SUV
Ultimately, the longevity of your used SUV depends on how well it has been maintained. It's crucial to research the vehicle's maintenance history, request service records, and have a trusted mechanic inspect it before making a purchase. A well-maintained older SUV can often be a better choice than a newer one that has been neglected.
The used SUV market offers a wide array of options for families, each with its unique combination of safety features, space, fuel efficiency, budget considerations, AWD capabilities, tech and entertainment features, and reliability. When navigating this market, it's essential to assess your family's specific needs and preferences. Consider factors like the size of your family, your budget, your driving conditions, and your desire for safety and convenience features.
By taking the time to research and test drive different models, you can find the perfect used SUV that meets the needs of your family and enhances your daily life. Whether you prioritize adventure, comfort, or simply getting from point A to point B with your loved ones, the used SUV market has an ideal option waiting for you and your family.
No matter if you are searching for cars for under 1000 , used suv under 20000 , used suv under 10000 , chevy silverado for sale , chevy traverse for sale , chevrolet silverado for sale , camaro chevrolet , used suv under 15000 , igotcars is the best place for you.
Copyright © 2020-2021 | iGOTCARS