Navigating the Lot: 10 Tips for Assessing a Used Car's Condition at the Dealership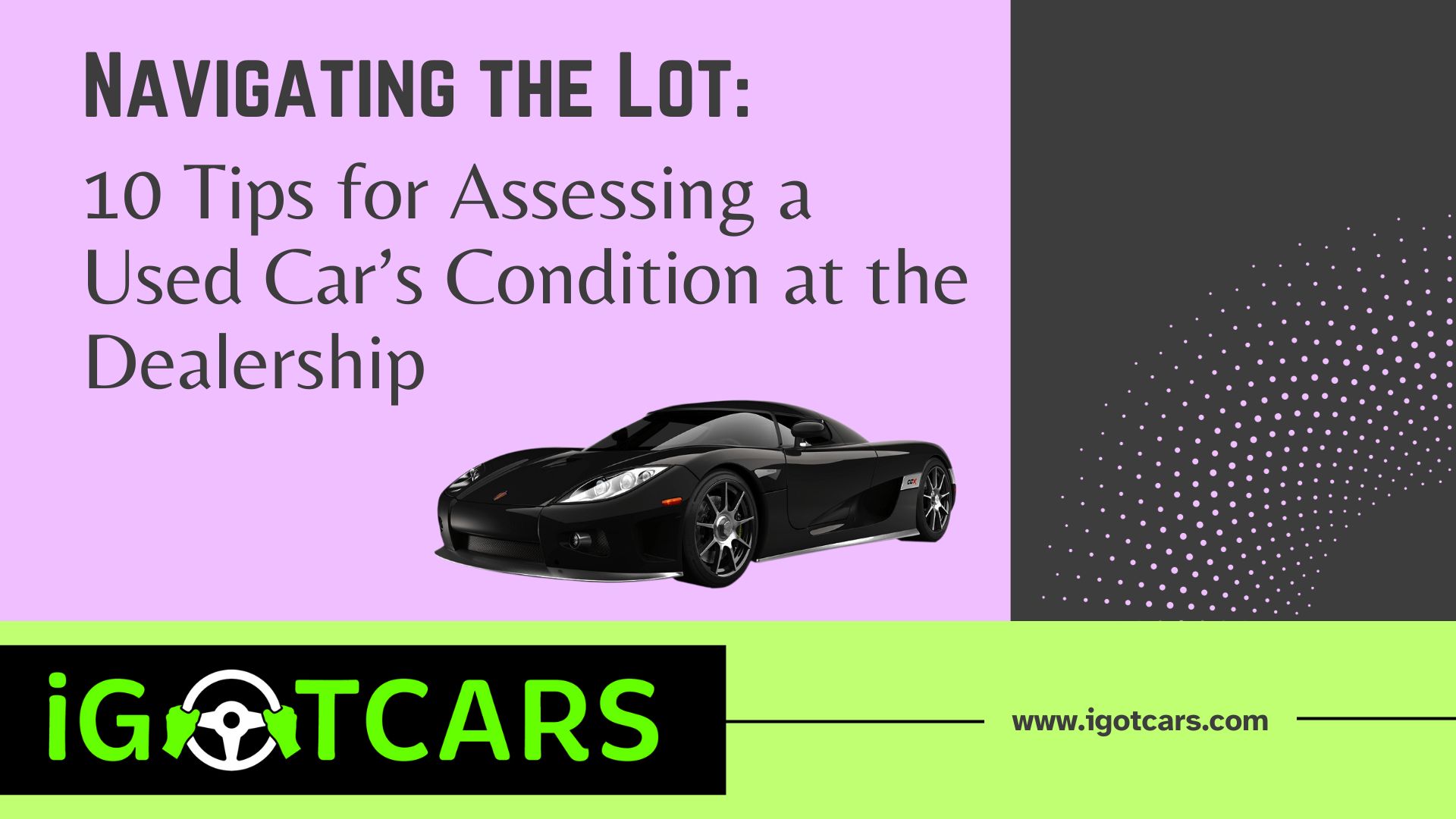 Buying a used car is often a balancing act between excitement and caution. While dealerships offer a range of options, it's crucial to roll up your sleeves and assess the vehicle's condition firsthand.
Here are 10 tricks to help you make a savvy choice when browsing the used car dealership lot:
Give it the Once-Over:
Take a slow stroll around the car, eyeing the exterior. Look for any dents, scratches, or paint irregularities. These can be indicators of the vehicle's history and how well it's been cared for.
Tire Talk:
Bend down and check the tires. Uneven wear might hint at alignment issues or suspension problems. Ensure the tread depth is adequate, and don't hesitate to ask about the tire's maintenance history at no credit check car lots.
Pop the Hood:
Lift the hood and take a peek inside. Assess the overall cleanliness and look for any leaks or loose belts. Check the oil dipstick – the oil should be a clear amber color, not too dark at used car lots near me.
Sniff Around:
Your nose can be a powerful detective. Take a whiff inside the car for any musty or moldy smells, which might indicate water damage. Also, catch a whiff around the engine for any strange odors.
Lights and Lenses:
Test all the lights – headlights, brake lights, turn signals. Ensure they are working correctly at used car dealership near me. Check the lenses for any cracks or moisture, which could signal electrical issues.
Get Inside:
Sit in the driver's seat and take a moment. Check the condition of the seats, steering wheel, and controls. This will give you a feel for how well the car has been maintained and if there are any surprises waiting.
Connectivity Check:
If the car comes with infotainment features, test them out. Check the radio, connect your phone via Bluetooth, and ensure that all electronic components are functioning as they should.
Undercarriage Scrutiny:
If possible, take a glance under the car at car lots near me. Rust or significant damage to the undercarriage can be a red flag. It's an often overlooked area that can tell a lot about a vehicle's history.
Fluid Inspection:
Check the transmission fluid and brake fluid. Both should be clean and at an appropriate level. If the fluids are dark or smell burnt, it might indicate neglected maintenance.
Ask for Maintenance Records:
Don't be shy about requesting the vehicle's maintenance records. A well-documented service history can provide insight into how the car has been treated over the years.
Remember, a thorough inspection is your best defense against potential issues down the road. Trust your instincts, ask questions, and take your time. After all, finding the right used car is a journey, not a race.
Visit the best buy here pay here pensacola – igotcars to find all vehicles in good condition at affordable price. We are famous at i got cars pensacola and igotcars pensacola fl and in Texas as well.
Copyright © 2020-2021 | iGOTCARS