Luxury Looks and Cheapest Price: Finding Value in Used Vehicles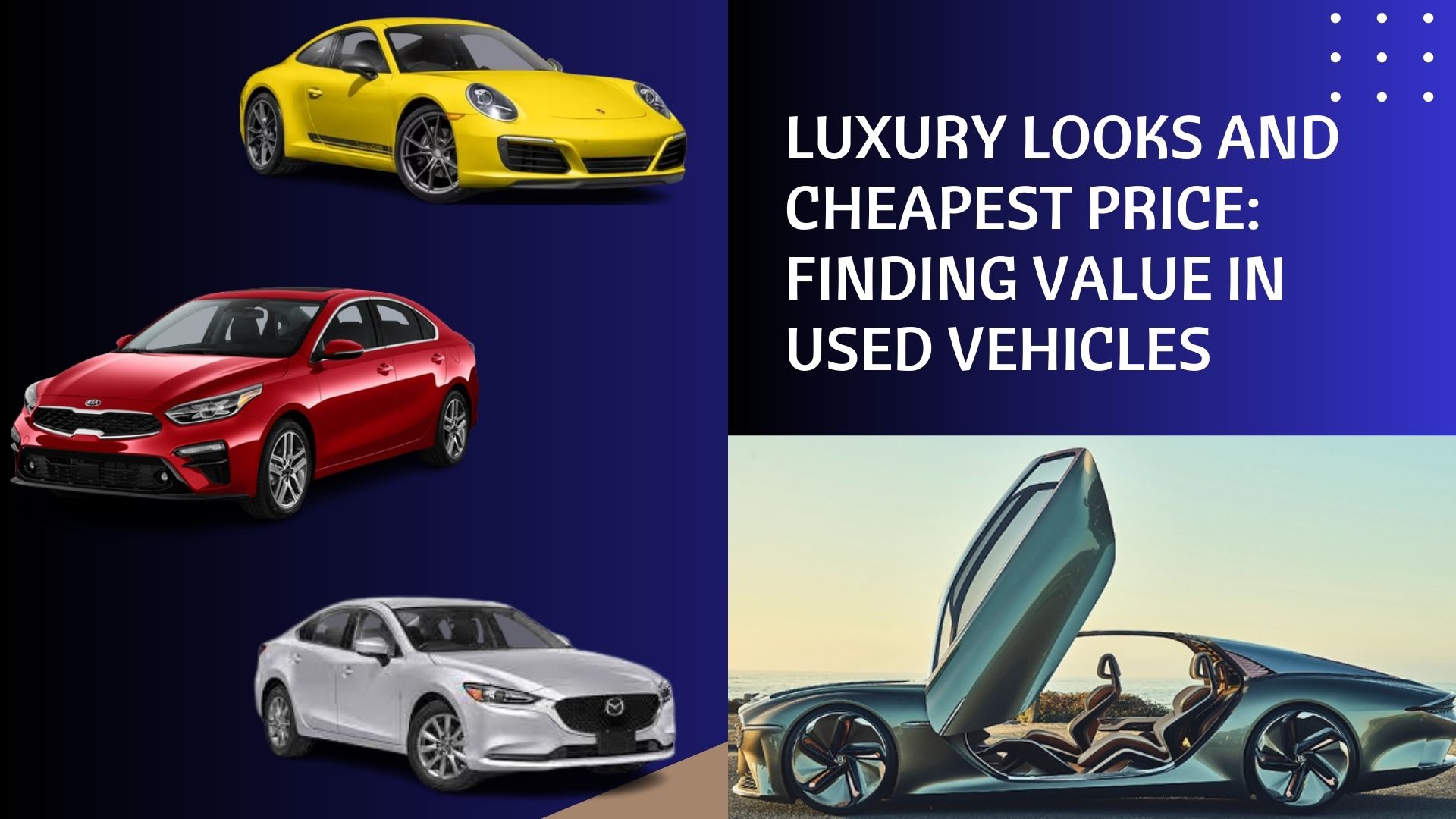 Fortunately, the used car market offers an array of options that provide the allure of luxury aesthetics at an affordable price. In this guide, we'll explore how to identify used vehicles that offer both luxury looks and a budget-friendly price point, allowing you to enjoy the best of both worlds.
Understanding Luxury Looks:
Luxury looks go beyond flashy logos or high price tags. They encompass sleek designs, premium materials, and attention to detail that elevate the overall appearance of a vehicle. Luxury elements often include refined interiors, sophisticated exterior styling, and advanced technology features. These characteristics contribute to a sense of elegance and opulence, even in vehicles that are budget-friendly.
Factors to Consider When Seeking Luxury Looks and Affordability:
Brands and Models:
Some brands are known for incorporating luxury features into their more affordable models. Research brands and models that have a reputation for offering a luxurious feel without the premium price.
Age and Mileage:
As vehicles age, their value tends to decrease, making them more affordable. Look for gently used vehicles with lower mileage to strike a balance between luxury looks and cost-effectiveness.
Depreciation Rates:
Research the depreciation rates of specific makes and models. Some vehicles experience higher depreciation than others, allowing you to find luxurious options at a fraction of their original price.
Features and Options:
Focus on vehicles that offer premium features even in their base trims. Technology, interior materials, and design elements can all contribute to a luxurious feel.
Top Used Vehicles with Luxury Looks and Affordable Prices:
You can find below-mentioned vehicle at best used car dealerships near me easily.
Acura TLX:
Acura, Honda's luxury brand, offers vehicles that balance performance and luxury. The Acura TLX sedan boasts a sleek design, refined interior, and advanced technology features. As it ages, it becomes an attractive option for those seeking luxury looks at a lower cost.
Buick LaCrosse:
Buick is known for offering upscale features in its vehicles. The Buick LaCrosse sedan presents a comfortable ride, spacious cabin, and elegant design. Its value on the used market makes it a viable choice for affordable luxury.
Hyundai Genesis:
The Hyundai Genesis, now known as the Genesis G80, challenges luxury brands with its combination of high-end features and competitive pricing. Its exterior design, well-appointed interior, and performance options make it a strong contender.
Lexus ES:
Lexus, Toyota's luxury division, offers refined vehicles that emphasize comfort and style. The Lexus ES sedan boasts a luxurious interior, smooth ride, and advanced safety features. Older models can provide a luxurious experience without the hefty price tag.
Infiniti Q50:
Infiniti's Q50 sedan combines performance with luxury. Its stylish exterior, plush interior, and available technology features make it an appealing choice for those seeking luxury on a budget.
Volvo S60:
Volvo vehicles are known for their safety features and upscale design. The Volvo S60 sedan offers a comfortable interior, modern technology, and a premium aesthetic that stands the test of time. Volvo can be found at buy here pay here car dealerships near me easily.
Key Tips for Buyers:
Research Thoroughly:
Before purchasing, research the specific model's reliability, common issues, and reviews from both experts and owners.
Inspect and Test Drive:
Physically inspect the vehicle and take it for a test drive. Ensure that it meets your expectations in terms of comfort, features, and overall condition.
Review Maintenance Records:
If available, review the vehicle's maintenance records to understand how well it has been cared for by previous owners.
Consider Certified Pre-Owned (CPO) Options:
Some luxury brands offer certified pre-owned programs that include additional warranties and thorough inspections, adding peace of mind to your purchase.
Acquiring a used vehicle with luxury looks and an affordable price involves research, patience, and attention to detail and requires visiting the best used car dealer near me.  By considering reputable brands, models with desirable features, and vehicles that have experienced reasonable depreciation, you can strike a balance between aesthetics, comfort, and cost. Luxury doesn't have to be synonymous with exorbitant prices, especially when exploring the diverse options available in the used car market. With careful consideration, you can find a vehicle that turns heads while also fitting within your budget. You can find all reliable luxury cars at IGotCars – in house financing near me in Texas.
Copyright © 2020-2021 | iGOTCARS