Everything You Need To Know About The 2022 Volkswagen Tiguan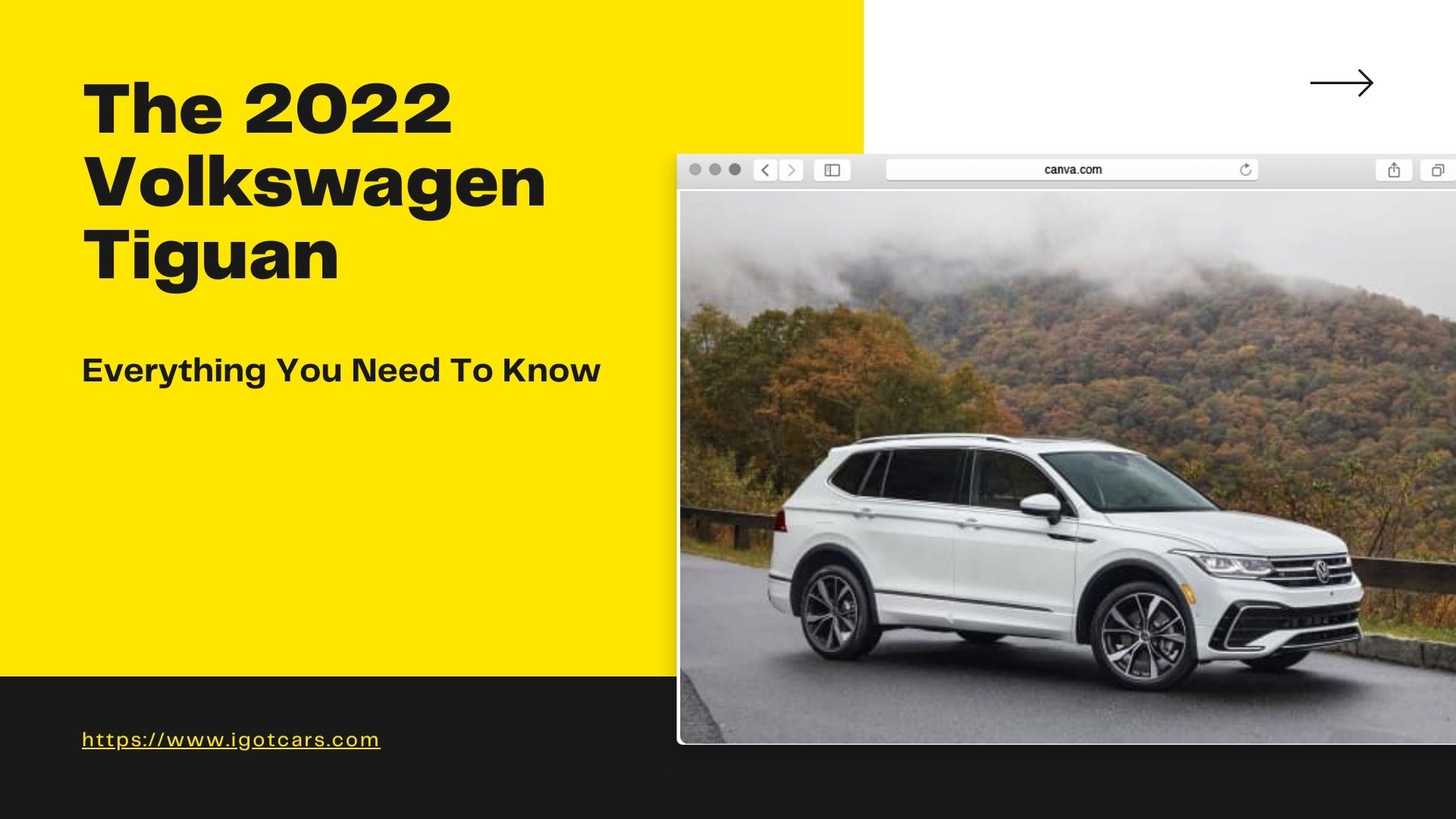 The Volkswagen Tiguan is a compact crossover SUV that resides between the Volkswagen Touareg and Volkswagen T-Roc. With the launch of the Tiguan in the USA market back in 2007, it has been a fairly successful iteration from the German car manufacturer and the first generation has been praised well for its large cabin and decent driving dynamics. After launching the second generation of the Tiguan in the back of 2016, Volkswagen is able to modernize the ride inside out as well. In 2022 Volkswagen launched Tiguan at a base selling price of $26490 and it comes with lots of upgrades and changes from the previous model. The styling has been refreshed along with it and the exterior gets many high-tech features included. The interior sees an updated steering wheel, heated seats, and a digital gauge cluster for all the models. There are many driver assistance features for all the trims except the base S trim. If you are willing to purchase these used cars no credit check near me then here you will know everything that every buyer should know before buying it.
Design And Exterior Features
The 2022 Volkswagen Tiguan boasts a sleek and contemporary design, featuring clean lines and a distinctive front grille. Its compact dimensions make it easy to park in urban environments, while its higher ground clearance enhances off-road capability. It has some notable exterior features including LED headlights, taillights, and daytime running lights, along with an optional panoramic sunroof and sporty R-Line styling elements.
Spacious And Versatile Interior
The Tiguan offers a comfortable and roomy interior, accommodating up to five passengers. With ample legroom and headroom, it provides a pleasant driving experience for both the driver and passengers. The rear seats can slide and recline, allowing for increased cargo space or enhanced passenger comfort. Moreover, the Tiguan offers a generous cargo capacity, with up to 73.5 cubic feet of space when the rear seats are folded. If you want to purchase this spacious vehicle at an affordable cost then you need to visit no credit check used car dealers near me.
Performance And Engine Options
Under the hood, the 2022 Tiguan features a turbocharged 2.0-liter four-cylinder engine that can produce 184 horsepower and 221 lb-ft of torque. The engine is paired with an eight-speed automatic transmission, providing smooth and responsive shifts. The Tiguan comes standard with front-wheel drive, while all-wheel drive is available for enhanced traction and stability. The vehicle offers a comfortable and composed ride, ideal for daily commuting and long-distance journeys.
Fuel Efficiency
Fuel efficiency is an important consideration for many buyers. The 2022 Tiguan delivers competitive fuel economy ratings, with an estimated 23 mpg around the town and 29 mpg on the highway for front-wheel drive models. Opting for all-wheel drive slightly reduces these figures to around 21 mpg in the city and 27 mpg on the highway. These ratings may vary based on driving conditions and individual driving habits.
Advanced Safety Features
Volkswagen prioritizes safety in the Tiguan, connecting it with a range of advanced safety features. It comes with standard safety technologies including forward collision warning with automatic emergency braking, blind-spot monitoring, rear cross-traffic alert, and a rearview camera. Every buyer wants to purchase a vehicle with lots of safety features so this is the best option for you. To purchase this car with high-tech features you should look for local buy here pay here car lots. Some optional features include adaptive cruise control, lane-keeping assist, park assist, and a 360-degree camera system. These safety features contribute to a secure driving experience and provide peace of mind for you and your passengers.
Driver-Assistance Systems
In addition to advanced safety features, the Tiguan offers various driver-assistance systems to enhance the overall driving experience. These systems include a park assist, rearview camera, pedestrian detection, and automatic high beams. They work together to provide convenience, improve visibility, and mitigate potential hazards.
Infotainment And Technology
The Tiguan offers a comprehensive suite of infotainment and technology features to enhance convenience and connectivity. It comes standard with a 6.5-inch touchscreen display, Bluetooth connectivity, Apple CarPlay, and Android Auto integration. Higher trims offer an 8-inch touchscreen, built-in navigation, a premium audio system, wireless charging, and a digital instrument cluster. The infotainment system is user-friendly, featuring crisp graphics and intuitive controls. If you want a car loan without any worry then you need to find reputed in house financing car lots near me. Make sure you select a dealer that has the vehicle that you are looking for.
Reliability And Ownership Costs
Volkswagen has made significant strides in improving its reliability over the years, and the Tiguan benefits from these improvements. It is backed by a solid warranty package, offering peace of mind for owners. Additionally, Tiguan's competitive pricing and reasonable maintenance costs make it an attractive choice in terms of long-term ownership.
Customer Reviews And Resale Value
Before making a purchase, it is essential to consider customer reviews and the vehicle's resale value. The 2022 Tiguan has generally received positive reviews from owners and automotive experts. Its reputation for reliability, versatility, and safety contributes to its strong resale value, making it a wise investment.
All Trims Of The 2022 Volkswagen Tiguan
The 2022 Volkswagen Tiguan lineup offers a range of models, each with its own unique features and specifications. Here you will know different models available for the 2022 Tiguan and you can buy any trim from used car dealerships with bad credit near me.
Tiguan S
The base model comes with a 2.0-liter turbocharged four-cylinder engine that produces 184 horsepower and 221 lb-ft of torque. It has a six-speed automatic transmission and front-wheel drive as standard; along with all-wheel drive available as an option. It has some standard features including LED headlights, cloth upholstery, a 6.5-inch touchscreen infotainment system, and a suite of advanced safety features.
Tiguan SE
The SE trim adds several notable upgrades, including keyless entry with push-button start, an eight-inch touchscreen infotainment system, heated front seats, dual-zone automatic climate control, and a blind-spot monitoring system with rear cross-traffic alert. It also offers an available panoramic sunroof and a power liftgate.
Tiguan SE R-Line Black
This sporty variant builds upon the SE trim and adds unique R-Line exterior styling enhancements, 20-inch black alloy wheels, a black headliner, and stainless steel pedal caps. It offers a more aggressive look and sportier driving dynamics. This is the best trim if you want to get something better at an affordable range. If you have bad credit history and want to purchase this vehicle then you need to look for the best buy here pay here car dealerships near me.
Tiguan SEL
The SEL trim introduces several luxury-oriented features, such as leatherette upholstery, a panoramic sunroof, adaptive cruise control, a digital gauge cluster display, and an upgraded Fender premium audio system. It also comes with a power liftgate, remote start, and advanced safety features like lane-keeping assist and automatic emergency braking.
Tiguan SEL R-Line
Building on the SEL trim, the SEL R-Line further enhances the sporty appearance with R-Line exterior styling elements, 20-inch alloy wheels, and sport-tuned suspension. When it comes to inside, it offers a leather-wrapped steering wheel, paddle shifters, and stainless steel pedal caps for a more engaging driving experience.
Tiguan SEL Premium
The SEL Premium trim takes luxury and convenience to the next level. It adds genuine leather upholstery, a heated steering wheel, heated rear seats, ventilated front seats, a hands-free power liftgate, and a 360-degree camera system. If you want to purchase a vehicle with lots of high-techs then this trim is perfect for your needs. To get no credit check used cars near me, you don't need to do much, just find a dealer that offers vehicles without checking credit. It also includes advanced safety features like adaptive headlights, park assist, and a traffic jam assist system.
Tiguan SEL Premium R-Line
The top-of-the-line SEL Premium R-Line combines the luxury features of the SEL Premium trim with the sporty enhancements of the R-Line package. It provides the best of both worlds with a powerful engine, upscale interior, and aggressive exterior styling cues.
All 2022 Tiguan models come with a generous amount of cargo space, with up to 73.5 cubic feet available when the rear seats are folded down. They also feature a comfortable and spacious interior, making them suitable for families and long journeys.
The 2022 Volkswagen Tiguan lineup offers a diverse range of models, each trim fulfilling different preferences and needs. Whether you are looking for a budget-friendly option, sporty styling, luxury features, or a combination of both, the Tiguan has something to offer. Each trim has a different price so before buying a vehicle you need to decide your budget so you will know which model fits your budget.
Conclusion-
Here you have read everything that you should know before buying the 2022 Volkswagen Tiguan bad credit used cars near me. While buying a used car make sure you check it properly and test drive the car so you will feel confident that you are buying the right car.
Copyright © 2020-2021 | iGOTCARS