Choosing the Right Used Car Dealership: What to Look For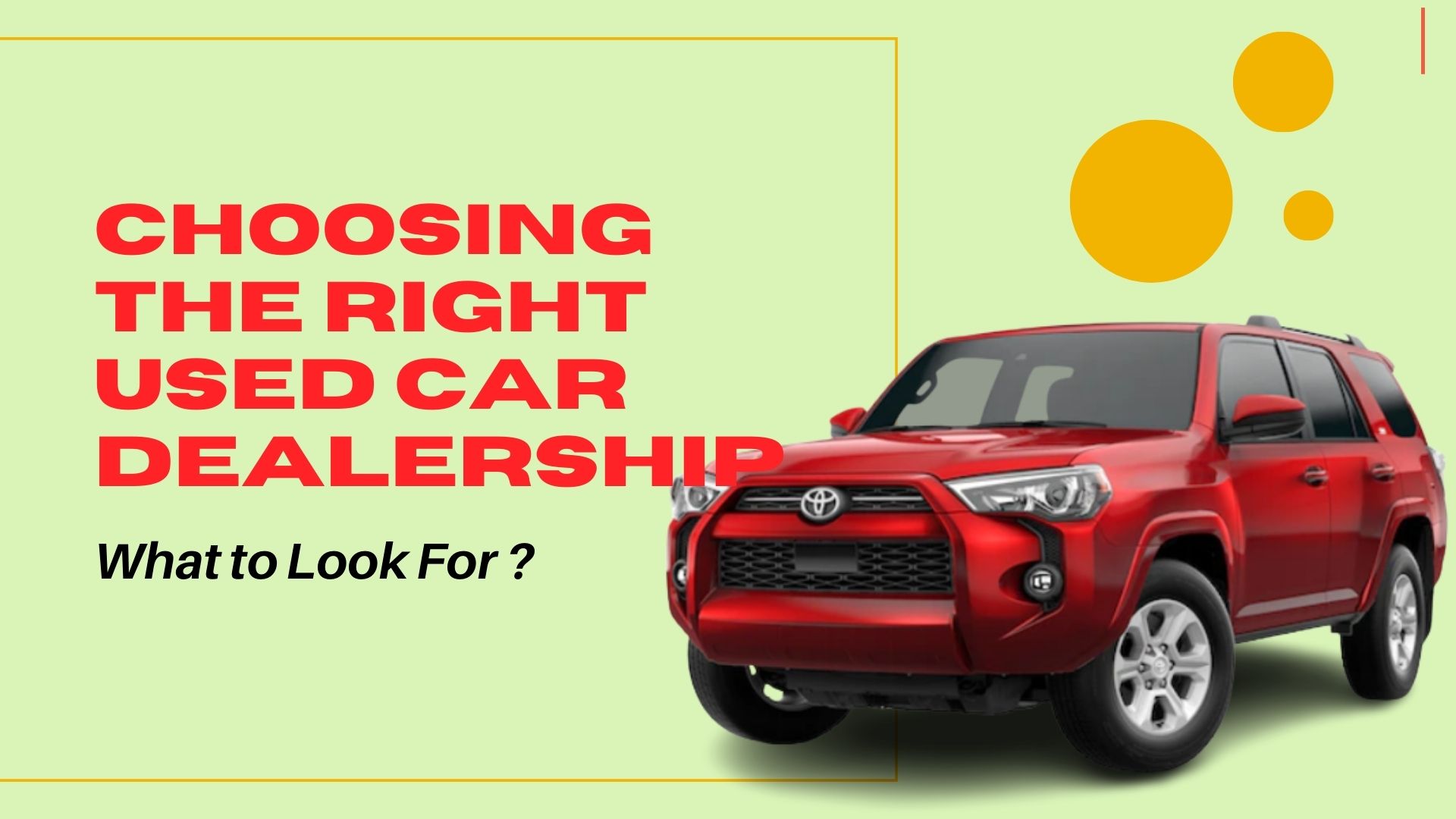 The quest for a used car can be an exciting yet daunting journey. With a plethora of options available in the used car market, finding the perfect vehicle to suit your needs is no small feat. To make this process smoother and more rewarding, one crucial decision is often overlooked: selecting the right used car dealership. The dealership you choose can significantly influence your car-buying experience, from the quality of the vehicle to the overall service and support you receive. In this article, we will explore what factors to consider when choosing the right used car dealership.
Reputation and Reliability
Reputation is the bedrock of trust when it comes to used car dealerships. A dealership's reputation is often built on years of service, customer feedback, and their commitment to honesty and integrity. To gauge a dealership's reputation, consider the following:
Online Reviews: Check online review platforms like Google, Yelp, and Facebook for feedback from previous customers. Look for consistent themes in reviews, both positive and negative.
Word of Mouth: Personal recommendations from friends and family can be invaluable. If someone you trust had a good experience with a particular dealership, it's a positive sign.
Better Business Bureau (BBB) Ratings: The BBB rates businesses on their performance, which can offer insight into the dealership's reliability and ethical practices.
Length of Operation: Established dealerships that have been in business for several years tend to have more experience and a stronger reputation to uphold.
Inventory Selection
The right used car dealership should offer a wide range of vehicles to suit different preferences and budgets. When considering a dealership, assess their inventory selection. Some aspects to look for include:
Diversity of Makes and Models: A good dealership should carry a variety of makes and models, including both domestic and foreign vehicles, to cater to different customer preferences.
Vehicle Condition: Inspect the condition of the vehicles in their inventory. Are they well-maintained and clean? The overall appearance of the cars reflects the dealership's commitment to quality.
Certified Pre-Owned (CPO) Program: Many dealerships offer certified pre-owned vehicles that have undergone thorough inspections and come with warranties. These can offer added peace of mind.
Price Range: Ensure that the dealership offers vehicles within your budget. A dealership that offers both budget-friendly options and high-end models is a plus.
Vehicle History and Inspection
Transparency regarding a vehicle's history and condition is paramount. Look for a dealership that provides comprehensive information on the vehicles they sell. Key factors to consider include:
Vehicle History Reports: Reputable dealerships often provide vehicle history reports, such as Carfax or AutoCheck, that detail the vehicle's past, including accidents, title status, and maintenance records.
Mechanical Inspections: The dealership should be willing to share information about the condition of the vehicles, including any recent inspections, repairs, or maintenance performed.
Warranty Offerings: Inquire about warranties and guarantees on the vehicles, which can offer protection in case of unforeseen issues.
Test Drives: A dealership that encourages test drives and allows you to have the vehicle inspected by a trusted mechanic is one that values your satisfaction.
Customer Service and Support
The level of customer service and support provided by a dealership can significantly impact your experience. Here are factors to consider in this regard:
Sales Team: Interact with the dealership's sales team to assess their professionalism, knowledge, and willingness to answer your questions.
Response Time: Pay attention to the response time for inquiries, whether via phone, email, or in-person. Prompt and courteous responses are indicative of good customer service.
Transparency: A reputable dealership should be transparent about pricing, fees, and the buying process. Hidden costs and vague explanations are red flags.
After-Sales Support: Inquire about the dealership's after-sales support, including servicing and maintenance options.
Communication: Effective and open communication is key. A good dealership should keep you informed throughout the buying process.
Financing and Payment Options
Understanding your financing and payment options is crucial when choosing a used car dealership. Consider the following:
Financing Options: Inquire about the financing solutions the dealership offers, including interest rates, loan terms, and approval requirements.
Trade-In Options: If you plan to trade in your current vehicle, find out how the dealership handles trade-ins and assess the fairness of their offers.
Payment Plans: Ask about payment plans and methods. Some dealerships offer flexible payment options to accommodate your budget.
Location and Convenience
The location of the dealership and the overall convenience it offers are practical considerations. Think about:
Proximity: A dealership close to your home or workplace can make it easier to visit for inspections, test drives, and servicing.
Operating Hours: Check the dealership's operating hours to ensure they align with your schedule.
Facilities: Consider the dealership's facilities, including waiting areas, cleanliness, and overall comfort.
Additional Services
Some dealerships go above and beyond by offering additional services that enhance the car-buying experience. These can include:
Vehicle Delivery: Some dealerships offer vehicle delivery services, making the buying process more convenient.
Extended Warranties: Inquire about extended warranties that provide additional coverage beyond the manufacturer's warranty.
Accessories and Add-Ons: Dealerships that offer a selection of accessories, like car mats or roof racks, can be a one-stop shop for your vehicle needs.
Maintenance Packages: Explore maintenance packages and servicing options offered by the dealership.
Trust Your Instincts
Ultimately, your instincts and gut feeling should play a role in your decision. If you have reservations about a dealership, it's essential to trust your intuition and consider alternative options. The right dealership should make you feel confident and comfortable throughout the buying process.
In conclusion, choosing the right used car dealership is a critical step in the journey to find your ideal vehicle. It requires careful consideration of the dealership's reputation, inventory selection, transparency in vehicle history and inspections, customer service and support, financing options, location and convenience, and additional services. By taking these factors into account, you can increase the likelihood of a successful and satisfying car-buying experience. Remember that the dealership you choose can greatly influence your journey toward owning the perfect used car.
Copyright © 2020-2021 | iGOTCARS