Best Approach To Negotiate At Used Car Dealers In Texas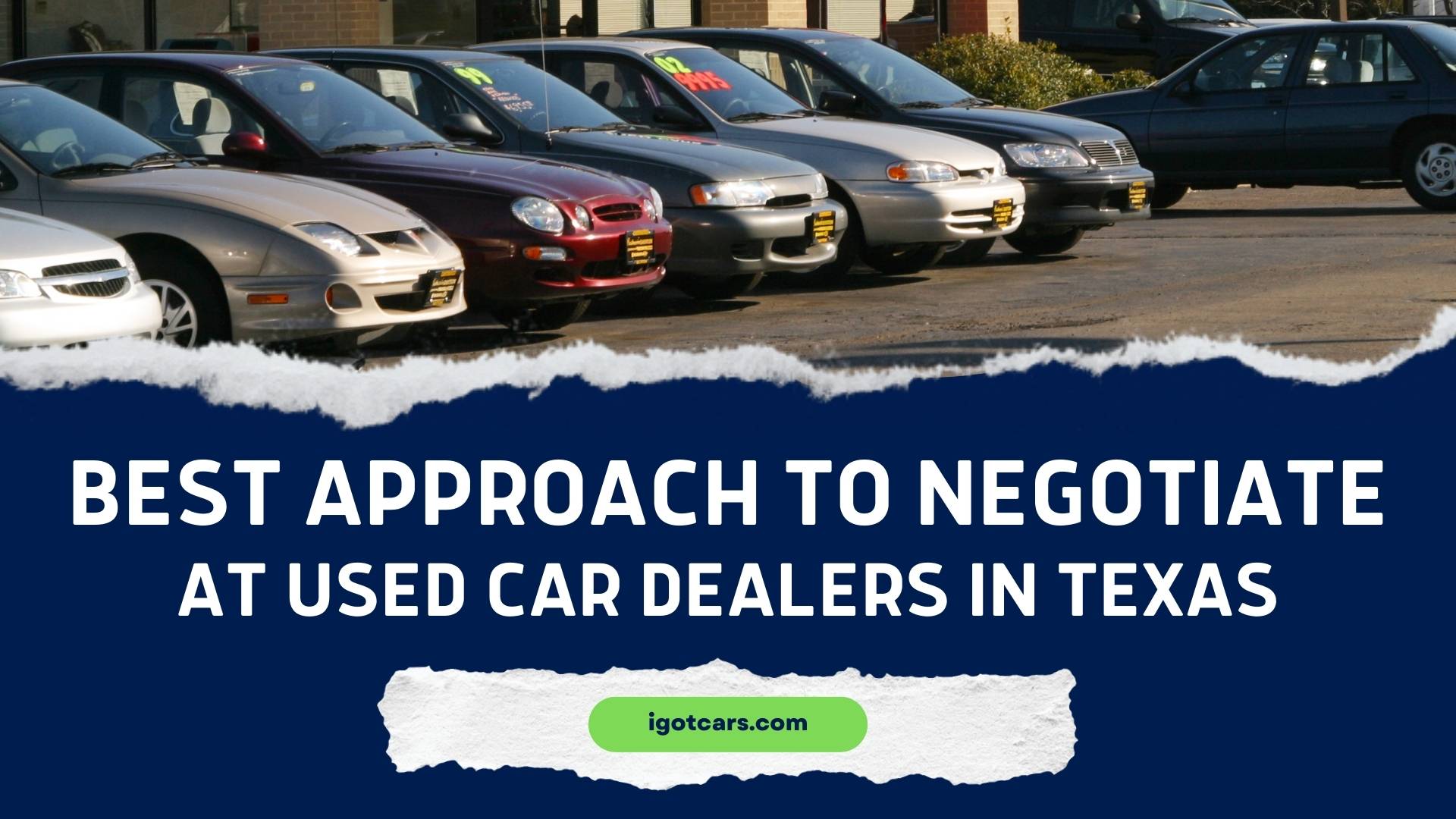 The process of purchasing a used car can be both daunting and exciting. There are many things to consider, from what model or brand to buy to what color. When you have decided which color, brand, and model you want, now it is time for the negotiation process. You might hear that you should not stick to only one dealer while shopping.
The negotiation is one of the most important things that many people avoid because they don't know the right way, or some people do this in an aggressive way. In both ways, you will lose your good deal. People think negotiating is the stressful process of buying a used car, but it doesn't have to be. With a little bit of preparation and knowing how to negotiate, you can confidently walk into the dealership and get the great deal possible on your used car.
If you don't know the way to negotiate with a used car dealership near me for bad credit, then this article is for you. To help you out, here we will discuss some expert tips on how to effectively negotiate the car price.
Are You Paying Cash?
If you are going to pay cash for your new car, then you possess more negotiating power than if you are financing. This is because the dealer can make enough money on financing, but dealers get instant money on cash payments, so they prefer it. If you will make payment in cash, make sure to let the dealer know upfront. Buying a car with cash has some benefits, but you can choose finance as well if you don't have enough money.
If you get car financing, then make sure to keep a high amount for a down payment. Having a higher down payment helps you to negotiate strongly, and chances increase that your dealer will convince you.
Do Your Research
The easiest way to prepare for the negotiating process is to do your research before visiting the dealer. Know what's the cost of the car that you are looking for both in terms of the sticker price and the trade-in cost. When you know this, you will know how much off you can get at the manufacturer's suggested retail price.
Knowing the actual price is just one part of your research; you should know some things like extended warranty, trade-in value, financing terms, and extra. However, a used car dealer is a trained negotiator when it comes to the negotiating process because they do this day in and day out, so it is important to prepare yourself before you get involved in negotiations. When you have proper knowledge, then sure you can get a good deal.
Take Your Time
When you visit a used car dealer in McAllen, Texas, to buy a vehicle, then there is no need to rush into things. Once you have found a car that you want, now take your time to negotiate and be patient during the process. Salespersons get a commission on a car sale, so they may try to pressure you to make a decision. However, you don't need to worry if you are not ready to make decisions; you should take some time to think about it. You can take your friends and family with you shopping; it will help you to make a good decision.
Know What Extras You Want
Before starting the negotiating process, you need to know what extra you want and what you are looking to pay for them. Some common extras include service and maintenance contracts and gap insurance before making a decision whether you want to buy or not purchase this extra.
To buy a used car at an affordable price, you should negotiate the price of the car without extra and then purchase this add-on later from another shop. You can often get service contracts and gap insurance at fewer prices than what the dealer provides.
Get Multiple Quotes
If you don't know the market value of the car that you want then get multiple quotes from different dealerships. This will provide you an idea about what is the rate in the market and will help you negotiate strongly. Moreover, if you have the price of one vehicle to compare with another, then it will put you in a much better position when dealing with salespeople.
Make sure you visit a local dealer as well as a neighboring city's dealer. As per the location, the price can vary, so it is very crucial to get some quotes before you start negotiating.
Be Prepared To Walk Away
If the dealer does not meet your price range, you should be prepared to walk away. People think that if they walk away, then they will not get a good deal. If the dealer who offers in-house financing for used cars is not willing to negotiate, then don't be afraid to walk away and find another dealer. You should purchase a vehicle when you are getting it under your budget. If the dealer is stuck in their choice, then move on.
On the other hand, some dealers may try to convince you to make a purchase by telling you that someone else is interested in the same model or brand, so you need to purchase it now or lose it. If this happens, then stay strong and tell them that you are not interested and move on. Buyers need to know that they have plenty of options with the same vehicle in the market.
Pay Attention To Financing
If you are purchasing a car with financing, then pay attention to the interest rates that your dealer offers. The dealer often marks up the interest rates on a vehicle loan, so it is essential to negotiate this before agreeing to a loan. If you are not happy with the offers that the dealer offered or if interest rates are high, then tell the dealer that you are going to shop around to get a better deal. They may agree on your condition and lower the rates to keep the deal safe.
Are you looking for a used car for sale in Edinburg, TX? If yes, then choose a dealer who offers trade-in service. You can visit another dealer or bank to see if you get better interest rates or good deals. When you have a few options, you can negotiate with your dealer confidently.
Know Your Limit
When you buy a vehicle then the first thing you should know is your budget. When you start negotiating, it is very important to know your limit or the maximum amount you want to spend on the car. Once you have reached your limit, be stable and don't budge. This will help you to avoid extra expenditure on your used car. Buying a car can be expensive when you get over your set budget.
During negotiating, your aim is to get a lower price than the dealer tag price. Along with the dealer invoice price, you need to keep in mind your monthly income and how much you can pay per month. If you are not careful about these things, you could end up with a deal that is out of your budget.
Be Willing To Compromise
While it is crucial to know your limit, you should also be ready to compromise if needed. When the dealer is willing to decrease only a few hundred dollars, it may not be worth walking away from the deal. Instead of walking away in this condition, you can negotiate on other terms like financing terms or trade-in value.
When you start the negotiating process, it is vital to have a clear thing in your mind about what you want. But be ready to compromise on some of the small things to get the best possible deal on your used car. A great deal has some space for negotiation, so don't be worried to haggle a bit. Your main aim is to get a better deal from a used car dealership near me for bad credit.
Keep Emotion Out Of It
The most important thing to remember while doing the negotiation process is to control your emotion. When you buy a car, no doubt you are excited, so it is easy to get caught up in the excitement and make decisions based on emotion instead of logic. But if you want to get a better deal, then you need to remain rational and calm.
A car salesperson knows when buyers get emotional, and they take advantage and convince you to pay the highest price easily. So before you take a step forward to negotiate, take a step back and make sure that you are thinking with your head, not your heart. While negotiating, you must keep in mind the price that the dealer offered, so you will know how much you want a discount on your purchase.
Conclusion
These are a few tips that will help you while buying a used car. The right way of negotiating will help you to get a better deal from used car dealers in McAllen, Texas, and you can save some dollars as well.
Copyright © 2020-2021 | iGOTCARS