Advantages Of Selecting An In-House Car Financing Dealership In Texas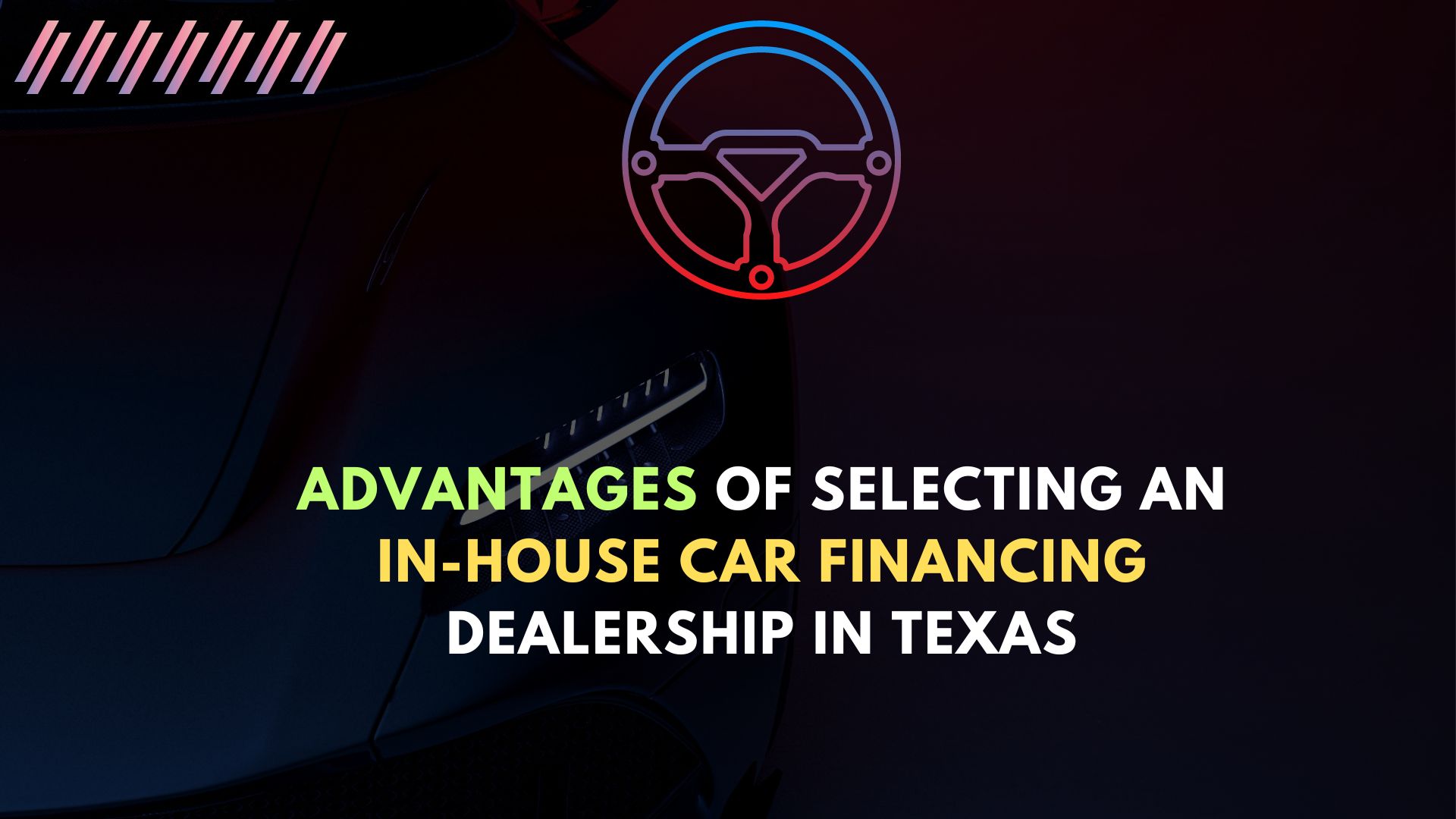 Almost every person wants to buy a car to make their life easy. They want to avoid transportation, reaching their destination or workplace early without problem, etc. cars make people's life very easy and also it helps you in case of emergency. Having a vehicle is the most important thing in today's life but many of them are not able to purchase a car because of money problems. Apart from that some of them want to get a car loan but their bad credit holds them back or they have to visit banks or financing institutions many times for approving loans.
People avoid getting loans because of its complicated process but today there are many alternatives available in the market and one of the alternatives is in-house financing. If you want to purchase a vehicle hassle-free then you need to find a dealership that offers in house financing used cars. Though, many people have myths about in-house financing or they don't know about its advantages. If you are one of those who don't know about in-house financing facilities and its benefits then you need to be with us. Here you will how in-house financing makes the car-buying process easy for you.
What Is Vehicle Financing Through A Dealer?
When you are purchasing a vehicle from a dealership then they will likely have an option to finance the vehicle through them. Dealers have tie-ups with a few top-notch financing companies so you just need to complete a car loan application and then the dealer submits your application to a lender. Though, some dealers offer financing facilities on their own and offer the best vehicle finance deal for their customers. Many people think that in house financing car dealership near me offers loans at higher interest rates but you can easily get finance at reasonable rates. Getting a loan from a dealership increases the chances of approving a loan application.
Convenience
One of the biggest advantages of financing through an in-house dealer is convenience. Instead of going to a bank and financing institutions, you just need to complete the whole process at the dealership. This can save you a lot of time and effort and provide peace of mind that everything is being taken care of in one place. This is the best thing for people who don't want to waste their time completing the loan application process. Apart from this, many dealers offer competitive rates and terms on their financing so it is worth shopping around to see what is available. By taking advantage of in-house financing, you can make the car-buying process much easier and more convenient.
Flexibility
Another benefit of selecting dealerships with in house financing is flexibility. Many dealers offer different financing options to choose from like in-house financing, buy here pay here, and financing without a credit check, so you can easily find a plan that fits your requirements and budget. You can select from different loan terms, interest rates, down payment amounts, and monthly payment plans. This allows you to cut and make your loan to fit your circumstances. In addition, if you even want to change your loan means increasing or decreasing your monthly payments then many dealerships are willing to work with you to make the necessary adjustments. If your financing situation is not the same every month then this flexibility can be very helpful for you.
Easier Qualification Requirements
Many people think that they have to follow the same process and invest the same time that they need to do with banks and credit unions. But the loan application process and quality requirements are often less stringent than those of banks. It happened because dealers are more interested in selling vehicles than in making a profit on loans, they are often willing to work with people with low credit scores. You can easily find bad credit used car dealers near me by searching on the internet or visiting nearby dealers' showrooms. This can be a great option for people who have had some financing setbacks in the past or don't have much credit score history.
Lower Interest Rates
People think that dealers offer their loans fast because they offer loans at higher interest rates. But not all dealers offer financing facilities at higher interest rates. You can easily get loan approval for lower interest rates when you finance through an in-house dealership. You can get a loan at an affordable rate of interest because dealers work with multiple lenders so they can shop around for the best rates on your behalf. This can save you a large amount of money over the life of your loan and help you pay off your car sooner. In addition, if you have a good credit score history then you can negotiate with the dealership for lower interest rates. Though, some dealers offer vehicle loans at high-interest rates so you have to find a suitable option for you to purchase used cars in house financing. Make sure you search properly and talk clearly before making a deal or signing a contract.
Fewer Upfront Costs
This is another advantage of getting in-house financing from a dealership; you may have to pay fewer upfront costs. Many banks and credit unions require a large down payment on your loan but this is often not the case with in-house financing. If you don't have enough money to make a down payment or don't want to invest your savings then some dealers allow loan facilities without or low down payments. Moreover, some lenders charge application or origination fees but these are typically not required by dealerships. It means you are able to get into your vehicle with less money out of pocket. Though, if you make a large down payment then it is beneficial for you because you need to pay low monthly installments and you don't need to pay a loan for a longer time.
Faster Approval Times
If you want to purchase a vehicle quickly then in house financing no credit check can be a great option for you. As you have read above the entire process is completed at the dealership so you can often get approved for a loan in just a few minutes. On the other side, getting approved for a bank loan can take several days or weeks along with many visits. The dealership doesn't need so much paper to submit and they will help and support you during the whole process. So if you are in a hurry and need a car right away then in house financing may be your best bet. For approving a loan you don't need to give them property as a security, you just need to prove your worth by giving some papers that will tell you your monthly income, address, etc.
Personalized Service
When you finance through an in-house dealership then you can expect to get more personalized service than you would receive from a credit union or bank. Dealerships typically have smaller staff in their showroom so you can develop a relationship with your loan officer and feel confident that they have your best interests in mind. Whether you have a low credit or good credit score history you can easily get a loan from dealerships for buying used cars for bad credit near me. In addition, many dealers offer programs that allow you to make early payments or trade in your car for a new one after a certain period of time. These programs can be very beneficial but you will need to find a dealer that offers them. When you trade in your car then you will get extra benefits and get a discount on your purchase.
Large Inventory
Many people think that when they get financing facility from a dealership then they don't have many options to choose from but this is not true my dear friend. You can access their inventory after getting an in-house financing facility. Make sure you select dealerships that offer a large inventory or have different types of models in all ranges. When you visit a dealer you need to first decide which car you can afford and which financing plan you want to buy. If you don't have much knowledge about the car then you can take your friends or family members together for shopping.
If you don't want to visit different dealers and check their inventory then you can check their inventory online. When you know that they have a model you are looking for then it may save you time while shopping. Many dealerships offer in-house financing on luxury vehicles so if you have a dream to purchase a luxury vehicle then you can easily fulfill your dream with the help of in-house dealers.
Conclusion-
While purchasing in house financing for cars, make sure you decide your budget first or how much you want to spend so you can easily analyze which model fits your budget. Some dealerships help you in selecting vehicles for you when you explain to them your requirements. They have many used vehicles so they can easily find a perfect match for you that will not allow breaking your bank.
Copyright © 2020-2021 | iGOTCARS