A Detailed Comparison of Two Outstanding Cars: Toyota Camry and Honda Accord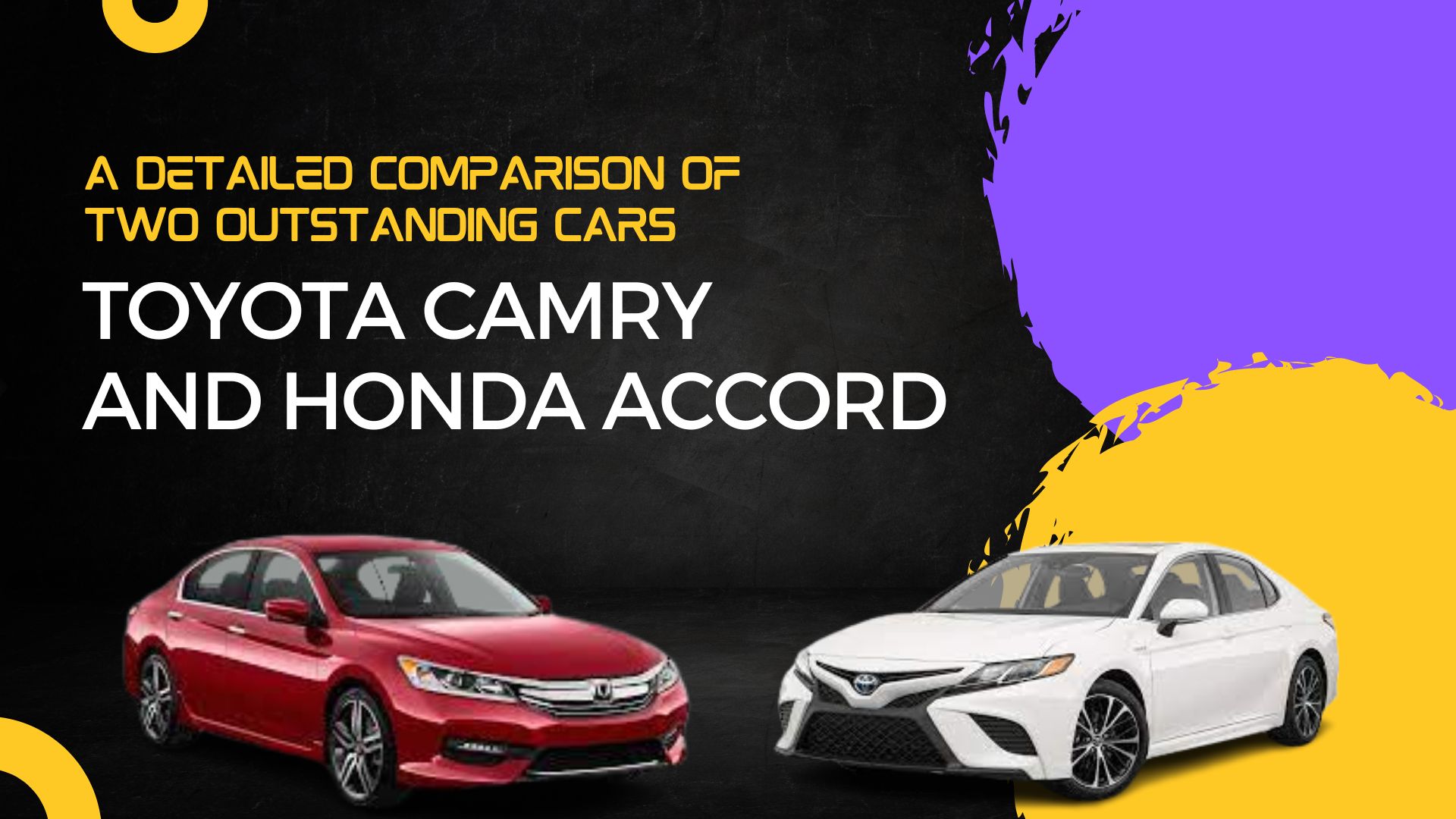 The automobile industry boasts an array of exceptional vehicles, each with its own set of features, performance capabilities, and advantages. Among the numerous options available, the Toyota Camry and Honda Accord have emerged as two of the most sought-after midsize sedans in the market. Renowned for their reliability, performance, and comfort, these vehicles cater to a diverse range of drivers. In this article, we'll conduct a thorough comparison of the Toyota Camry and Honda Accord, highlighting their key features, performance attributes, safety technologies, and overall driving experience.
Toyota Camry: The Epitome of Reliability
The Toyota Camry, known for its dependability and longevity, has maintained a strong presence in the midsize sedan segment for decades. With a reputation for consistent performance and a plethora of modern features, the Camry has earned its place as a top choice for discerning drivers.
Honda Accord: A Blend of Performance and Efficiency
The Honda Accord, equally revered in the automotive world, embodies a harmonious blend of performance and fuel efficiency. Renowned for its balanced handling, comfortable interiors, and advanced safety technologies, the Accord has become a staple choice for those seeking a well-rounded driving experience.
Exterior Design and Style
Both the Toyota Camry and Honda Accord exhibit sophisticated exteriors with sleek lines and contemporary aesthetics. The Camry boasts a bold and refined design, featuring a prominent grille, distinctive LED headlights, and aerodynamic contours. On the other hand, the Honda Accord takes a slightly sportier approach with a more dynamic front fascia, angular headlights, and a subtly muscular profile. Ultimately, the choice between the two designs comes down to personal preference, whether one leans toward the Camry's refined elegance or the Accord's sporty demeanor.
Performance and Engine Options
Under the hood, the Toyota Camry offers a range of engine options, including fuel-efficient four-cylinder engines and a potent V6 for those seeking a more spirited drive. The Camry's engines are known for their smooth performance and commendable fuel economy, making it a practical choice for both city and highway driving.
Similarly, the Honda Accord presents a lineup of efficient powertrains. The base engine is a responsive four-cylinder, while a turbocharged four-cylinder engine provides additional power without compromising fuel efficiency. The Accord's driving dynamics emphasize a balance between comfort and agility, making it an enjoyable companion for daily commutes and longer journeys.
Interior Comfort and Technology
Inside the cabin, both the Camry and Accord prioritize passenger comfort and modern technology. The Toyota Camry offers a spacious and well-appointed interior, featuring high-quality materials, supportive seats, and an intuitive infotainment system. Apple CarPlay, Android Auto, and a host of advanced driver-assistance features come standard, enhancing convenience and safety.
The Honda Accord follows suit, boasting a comfortable and well-designed interior. The ergonomically arranged controls and premium materials contribute to a refined atmosphere. The infotainment system is user-friendly, and the Accord also comes equipped with a suite of advanced safety features, including Honda Sensing, which includes adaptive cruise control, lane-keeping assist, and collision mitigation braking.
Safety Features
Both the Toyota Camry and Honda Accord prioritize safety through a range of advanced features. The Camry comes equipped with Toyota Safety Sense, a suite of driver-assistance technologies that includes pre-collision braking, adaptive cruise control, and lane departure warning. Additionally, the Camry has earned high safety ratings from both government agencies and independent safety organizations.
The Honda Accord offers its own set of safety features through Honda Sensing, similar to the Camry's suite. This system aids in collision avoidance, lane keeping, and adaptive cruise control, contributing to the Accord's excellent safety record.
Fuel Efficiency
Fuel efficiency is a crucial consideration for many drivers, especially those who spend considerable time on the road. The Toyota Camry and Honda Accord are known for their impressive fuel economy across their engine options. Both vehicles provide competitive mpg ratings, whether in city or highway driving conditions.
In the end, the choice between the Toyota Camry and Honda Accord largely depends on individual preferences and priorities. The Camry appeals to those seeking a reliable and comfortable ride with a touch of elegance, while the Accord attracts drivers looking for a balanced blend of performance, efficiency, and safety. Both vehicles offer exceptional value, advanced features, and a reputation for long-lasting quality. Whichever one is chosen, drivers can rest assured that they're getting behind the wheel of a well-regarded and highly capable midsize sedan.
Copyright © 2020-2021 | iGOTCARS