2022 Toyota Avalon: Review and Specifications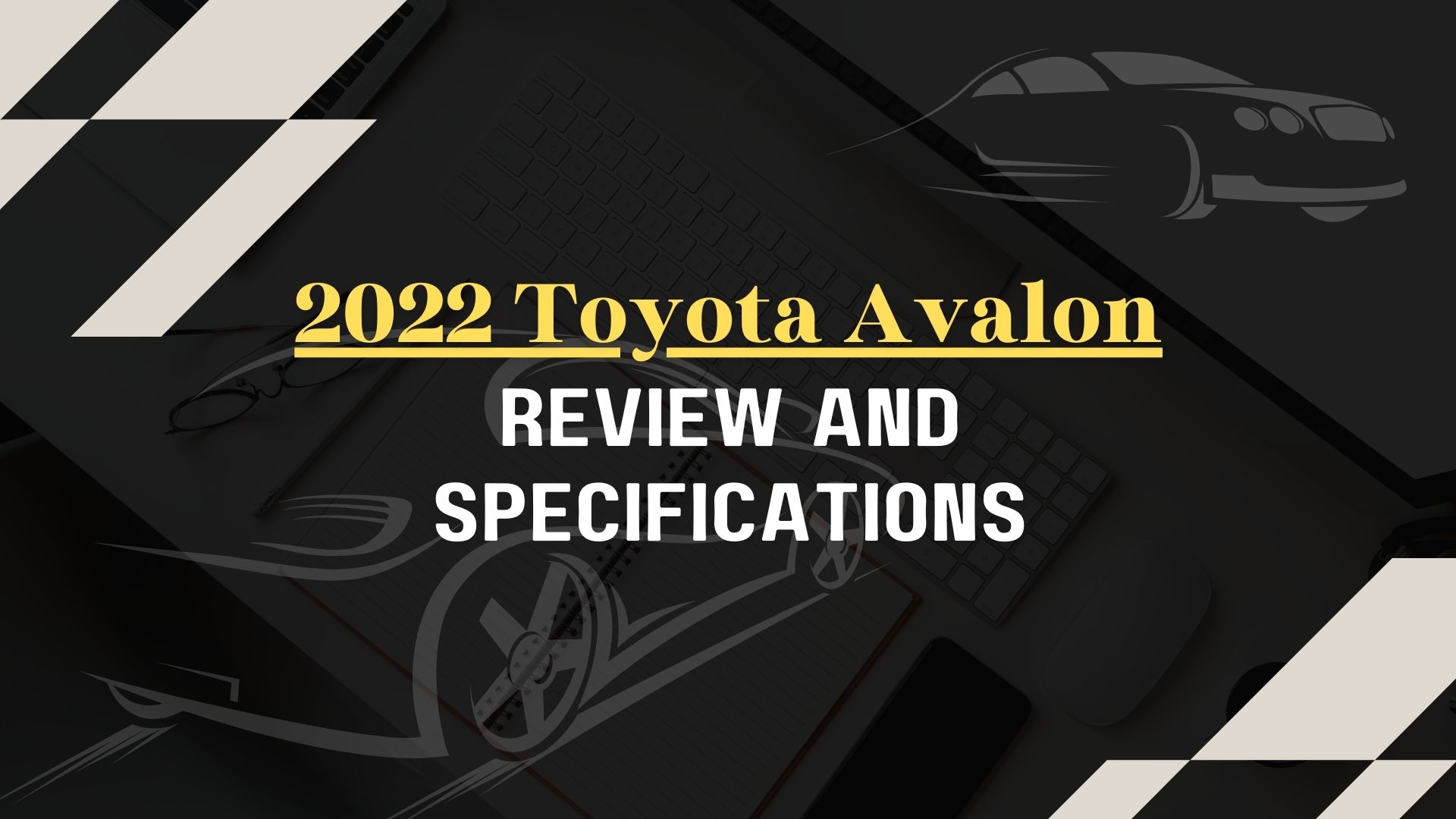 The 2022 Toyota Avalon is a sports sedan that offers an aggressive look but is a big softie. This car provides either a V-6 or hybrid powertrain, a spacious cabin, and front-wheel drive that is very comfortable. The Toyota updated driver-assistance features and infotainment goodies in the Avalon car. So that the driver will benefit from these features and it is easy to use. For people who prefer a large sedan over a tall-riding SUV, then sure, you have a few options like the Nissan Maxima, Volkswagen arteon, and Chrysler 300. But when you see Toyota Avalon, we are sure you will only want to buy this sedan. Here we will discuss everything about the 2022 Toyota Avalon so let's start. 
What's New In 2022 Avalon?
Toyota improved many features in Avalon, so you will definitely enjoy its ride. Many dealers offer used Toyota Avalon cars so that you can buy them at an affordable price. To get an affordable cost, you just need to search the best place to buy used cars. However, buyers will be unable to choose last year's model of Avalon with an all-wheel drive system. Its hybrid XSE model is the only option for buyers, along with the nightshade appearance package. All models of Avalon have a new rear-seat reminder feature. The feature of driver assistance is also updated with a radar-based collision avoidance system and advanced camera.  
Pricing And Which One You Should Buy
There are various models of Avalon available in the market, like XLE, hybrid XLE, touring, and so on. Every model has a different cost, but the starting price of all models of Avalon is $36,375. This price is quite higher than average for the large car class. If we talk about which car you should buy, the XLE trim is very popular among customers. The XLE has exterior features like LED headlights and heated power-adjustable side mirrors. It also comes with a tilt-and-telescoping steering column and auto-dimming rearview mirror. However, all Avalon sedans have tech features such as an android auto, satellite radio, apple carplay, and siriusxm. All sedans of Avalon come with driver assistance amenities like adaptive cruise control and blind spot monitoring. 
If we talk about car insurance, the cost of insuring Avalon 2022 will depend on many factors, including the types of insurance you select, deductible, and the level of coverage you want. Apart from these, your gender, age, location, driving record, and credit score also affect insurance rates. 
Is Toyota 2022 Avalon A Good Car?
The Toyota 2022 Avalon is famous as the best full-size sedan. It impresses its customer with its upscale and roomy interior, user-friendly infotainment system, comfortable seats, and great standards of safety features. This car turns on swiftly and provides a comfortable ride, and also its V6 engine offers great gas mileage. For daily use and to drive day in and day out, the Avalon is the best car. This car is the first choice of a customer because of its great combination of valve and quality, safety and reliability, and cargo and passenger space. It has many positive reviews and offers family-friendly features. 
2022 Toyota Avalon Interior 
The interior part of the 2022 Avalon is amazing, and here we will discuss what facilities you will get in the interior of the car. You will get many new technology features if you buy this car. To get Avalon, you can search best used car for sale near me. 
Avalon interior quality: the interior of Avalon is modern and clean-cut, and it is made with higher-end materials such as soft-touch plastic, wood, and synthetic leather. The dashboard with angular elements looks very particular. The angular element joins with a sleek infotainment display and the door panels. The cabin does its job very well in muffling wind and road noise.
Avalon infotainment, navigation, and Bluetooth: the Avalon is famous for its intuitive infotainment system. This system has a 9-inch touchscreen that is responsive and brightly lit; it arranges all menus neatly. It can control by physically for the climate and main audio settings. The only drawback of this car is its optional navigation system is outdated by modern standards. It has low-resolution graphics, and the overall operation of the system is solid. You can use your smartphone's GPS to get a better result and connect GPS via the android auto system and standard apple carplay. 
Available infotainment features

: a 14-speaker stereo, navigation, and wireless device charging.

Standard infotainment features

Apple carplay, Amazon Alexa, a 9-inch touch screen, and android auto. Other than these, the customer will get satellite radio, Bluetooth and 5-USB ports, and an eight-speaker stereo. 

Additional standard features

: you will make your journey superb with its features like dual-zone automatic climate control, push-button start, and keyless entry. 

Other available features

: the other features are a moonroof and great interior lighting.
 Avalon cargo space: the Avalon comes with 16.1 cubic feet of trunk space. Its space is larger than other car classes, so it can easily fit carry-on bags, two sets of golf clubs, or a large haul of groceries without any problems. The rear seat and back seat can fold down so you can carry longer items like skis. 
No of seats: the Toyota Avalon sedan has four-door with five seats. Its front seat is well-cushioned and offers great support for a long journey. The car offer range of steering wheel and seat adjustments so you will get a comfortable driving position. The rear seat offers comfort, and there is sufficient space for adults to stretch out. 
Avalon Performance
Avalon engine: the Toyota 2022 Avalon has a 3.5 liter V6 engine that produces 267 pound-feet and 301 horsepower of torque. It has front-wheel drive and eight-speed automatic transmission that is standard. This powertrain is perfect for Avalon. Its V6 engine helps to increase speed easily; it takes only six seconds to increase speed from zero to 60mph. The transmission offers prompt and smooth gear changes that make swift pass maneuvers on the highways and roads.
Avalon gas mileage: the Avalon XLE offers an EPA-rated 32mpg on the highway and 22mpg in the city that fit large car class in overall fuel economy. Another model of Avalon touring and limited are rated at 31 mpg on the highway and 22 mpg in the city. You can get the benefits of this car with great mileage; you just need to search for used convertibles for sale. 
Avalon ride and handling: the 2022 Toyota Avalon is the best car to drive, not only because it is exciting and sporty but also because it takes the sting out of larger commutes. It provides a very comfortable and quiet ride because the suspension sops and rough patches work with grace. When the car turns, it feels surefooted and stable. It shows minimal body down and leans when corning sharply. The Avalon steering is nicely weighted and responsive so that the brakes help this car to stop confidently. 
Know About Avalon's Safety Features, Reliability, And Warranty
Many agencies predict the reliability score of the 2022 Toyota Avalon is 85 out of 100. The category of reliability score of 91-100 is considered the best, 81-90 comes in the great category, 70-80 is average, and 0-69 is fair, and it can be considered below average. 
Toyota covers the 2022 Avalon with a five-year or 60000 miles powertrain warranty and three years or 36000 miles limited warranty. The Toyota Avalon has a 9.3 out of 10 safety rating. If we talk about safety features, then this car is made with various safety features. This car offers rear cross-traffic alert, pedestrian detection, forward collision warning, forward automatic emergency braking, and adaptive cruise control. The Avalon comes with many other safety features like lane keep assist, road sign recognition, lane departure warning, and automatic high-beam headlights. 
What Is The Difference Between The 2021 And 2022 Models Of Toyota Avalon?
Toyota has announced that the 2022 model Avalon is the last model. Due to its last model, some of its trim levels and options that are not necessary have been reduced. Moreover, for 2022 Toyota discounted its sport-tuned Avalon TRD. There are many features improved in new models that make the ride comfortable. You can buy a secondhand Avalon from the best place to buy used cars. The new models don't have a four-cylinder engine option, along with the all-wheel drive. 
Here are a few changes for the Toyota Avalon over the last few years:
2019: fully redesigned of the fifth generation with 33 more horsepower, a standard 9-inch touch screen, a larger trunk, more standard, and safety and tech features. 
2020: in this model sport-tuned TRD model added
2021: this model comes with many additional features like an android auto-added, and a four-cylinder with an all-wheel drive option became available. 
2022: in the 2022 Avalon models, many unnecessary things were discontinued, like the four-cylinder engine, TRD models, and all-wheel drive pared down. 
Conclusion
The 2022 Toyota Avalon car offers everything that people could want in a large car. You can check out the best used cars for sale near me and get their comfortable drive. It is quick, spacious inside, and fuel efficient.
Copyright © 2020-2021 | iGOTCARS