2022 Nissan Leaf: Review and Specifications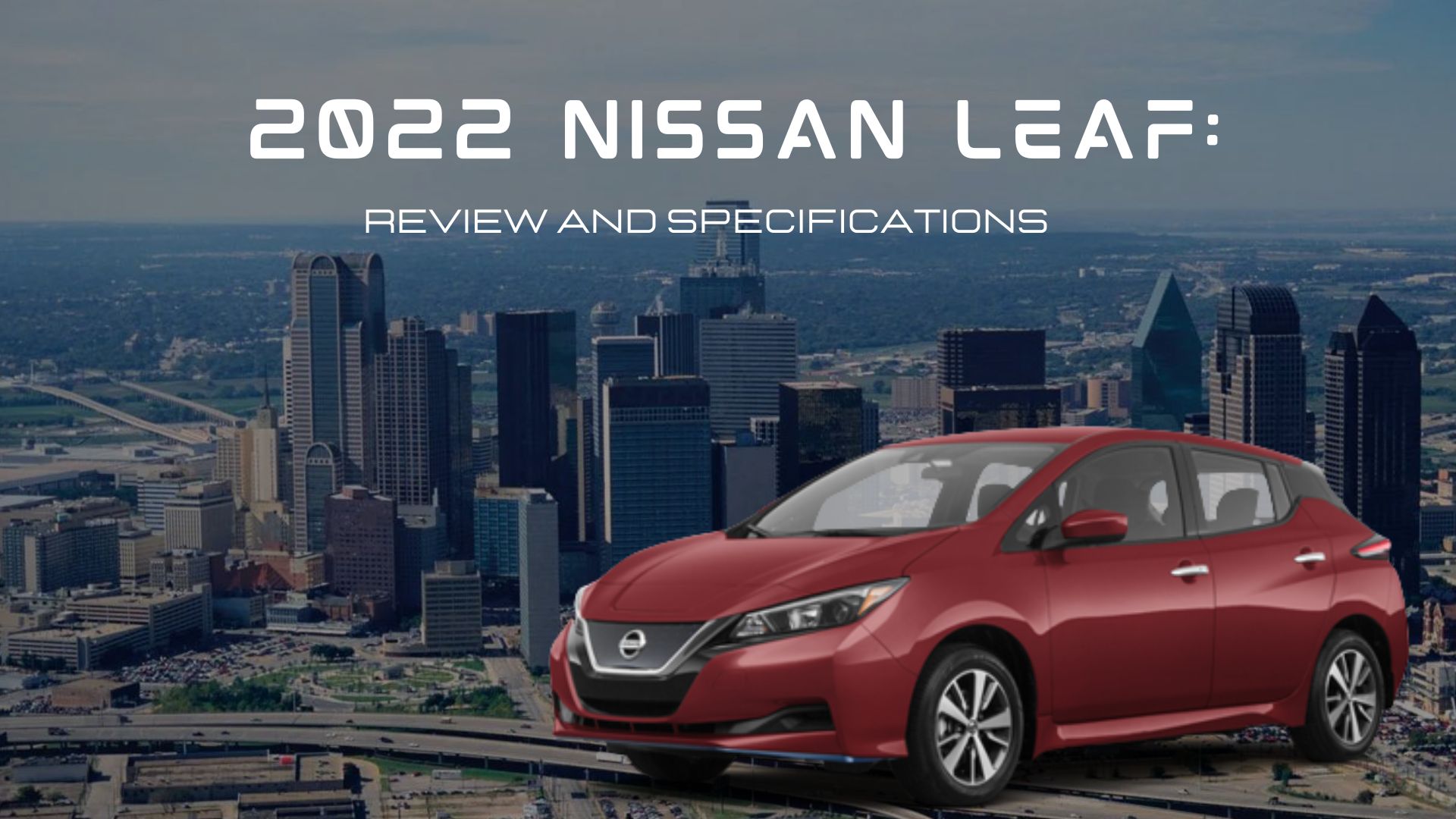 There is so many cars brand and model available in the market. But as we all know, the world is moving towards electric vehicles, so the 2022 Nissan leaf is the first choice of buyers. The latest model of Nissan comes with many new features that will help the driver. If you are planning to purchase an electric vehicle from a used car dealer Pensacola FL, then this article is for you. Here you will know everything about the 2022 Nissan leaf, so let's begin.
Nissan launched the 2022 leaf model with a reduced price tag, but its lackluster range means other mainstream electric vehicles are more practical and worth the additional dollar. The battery pack of the base leaf is good vehicle for only 149 miles of estimated driving range; Nissan upgraded to a plus model that increases driving range to 226 miles, which is better but hardly groundbreaking. If we talk about its rivals like Kia Niro EV and the Chevy bolt EV, it provides more driving range as standard. The cabin of the 2022 Nissan leaf is comfortable and spacious and comes with lots of high-tech driver assistance features, including a semi-autonomous driving mode. Despite excellent features and good performance, the leaf has simply fallen behind segment leaders like the tesla model 3 and the ford mustang Mach E in both practicality and desirability.
What's New For The 2022 Nissan Leaf?
Nissan has launched the 2022 leaf with many updates and improvements. They have added the chademo quick charging port in the leaf models this year. They also added the propilot assist semi-autonomous driving mode on the SV plus trim model that is standard. The biggest news for buyers is the leaf's substantial drop in price. The 2022 Nissan leaf is now the cheapest new electric car that you can buy easily from dealerships in Pensacola FL, without extra charge. You will surely love it because you can charge it at home and easily use its features while driving. The menus on the touch screen are not difficult to use in the new model.
What Is The Pricing, And Which One To Buy?
If we talk the pricing of the 2022 Nissan leaf, then they come in different models, so the price also varies per model. The base model starts at $28495, which is the lowest price in the electric vehicle market. The other models, SV and S plus, are available in the market at $29895 and $33495, respectively. The leaf comes in SV plus, and it is available at $36495, and SL plus version starting price is $38495. Nissan offers their best models at very low prices with lots of advanced features to attract the purchaser.
All model of a leaf is best to buy, but if we talk about selecting one among all, then the S plus is because it carries the longest driving range, is a reasonable price, and has a more powerful electric motor. This model of Nissan 2022 leaf provides a decent set of standard equipment and feature. It comes with an 8.0-inch infotainment system along with an android auto and apple carplay capability. The S plus model has an automatic climate control system, automatic headlamps, and keyless entry with a push-button start. If you have a low budget, then you can get Nissan leaf 2022 quality pre owned vehicles easily without the stress of saving more dollars.
Know about EV motor, power, and performance
The standard 2022 Nissan leaf model comes with a 147-horsepower electric motor that provides power to the front wheels, and a 40.0-kwh battery pack offers the juice. This model can manage to reach 0-60 mph in just 7.4 seconds because it's motor instantaneously delivers power to the wheel. But this number is less than the model 3 and the Bolt EV. The leaf plus model has a gutsier, 214-hp electric motor and a larger 62.0-kwh battery. As we all know, Nissan upgraded lead to the more powerful plus model, so no doubt you can see quick acceleration. The 2022 Nissan leaf comes with an e-pedal feature that allows the driver to toggle back and forward between regenerative braking modes. In both modes, one helps the car to start when the driver lifts off the throttle, and the other one slows the vehicle when you take your foot off the gas it means stop using gas so that it uses that power to recharge the battery. It means these modes are very helpful in the condition when the car's battery is lo
w and there is no nearby charging station. If you are in Florida and planning to purchase this car, then there are many car dealerships near Pensacola FL that provide leaf at reasonable rates.
What Is The Range, Charging, And Battery Life?
The 2022 Nissan leaf is coupled with a regular 120-volt outlet or other a 240-volt outlet, but the charging time is different and varies dramatically between the two. On a 240-volt connection, the Nissan says both the battery can be discharged in seven hours. A DC fast charging connection is great that comes in all trims. The standard Nissan leaf model all has a 40.0-kw battery that offers a relatively limited range of 149 miles. If you are going office that is situated near your home, then this range is enough for you, but this range is less than half of what the model 3's long-range model offers. The 2022 Nissan leaf plus has a larger battery pack that provides more driving range. If you want to unlock the leaf model's maximum 226 miles of driving range, then you will have to buy the S trim level because the SV plus and SL plus models only offer a driving range of 215 miles. For some drivers, this range is enough because they don't need to go on a long drive.
Know About Fuel Economy And Real-World Mpg.
If you are searching for cars to buy from dealerships in pensacola FL, then the 2022 Nissan leaf is the best vehicle with great fuel economy. The leaf SV plus model vehicle gets 94 mpg over 75 mph highway fuel economy test route. However, in a test of fuel economy, it provides less mpg than it claimed. Though, it has many features that help to offer you a good and comfortable driving experience.
Know About Comfort, Cargo, And Interior.
Though the cabin of the leaf S and svs Nissan used lots of black plastic, the uniform and well-assembled textures helped it to avoid looking cheap. The SL model has an optional light-gray leather interior along with a matching dash pad that looks and feels better. The gauge cluster comes with a large analog speedometer connect next to a 7.0-inch digital readout that can be used to figure out and show a variety of displays. If we talk about leaf seats, then they are La-Z-Boy comfortable, and its rear seats provide enough space in headroom and legroom so that adults also can sit easily. If you fold the back seat, it doesn't create a flat floor, but this model offers a big cargo capacity among the class. To carry large and heavy stuff you can buy a Nissan leaf from a used car dealer Pensacola FL You can load seven suitcases behind the rear seat and carry 19 bags with the rear seat folded. The cargo capacity of the Nissan leaf is more than the bolt EV because it can carry five in its carg
o and max out at 16 with folded back seat. The 2022 Nissan leaf car is on top when it comes to cargo capacity among all-electric vehicles.
Infotainment And Connectivity System
All Nissan 2022 leaf models have an 8.0-inch infotainment display along with android auto and apple carplay integration; navigation is optional. The latest Nissan connects software interface is quick and intuitive in responding to display input but is not particularly pleasing to the eye. It has audiophiles that may be disappointed with the Leaf's seven-speaker Bose system and standard six-speaker audio system. The seven-speaker Bose system is exclusive to the SL plus and SL models, but many buyers don't like it.
With the help of this infotainment system of quality pre owned vehicles, a driver can easily adjust and change the setting while driving. Though some people find difficulties in understanding its display and using a menu, if you practice for some time, then you can easily use it.
Warranty And Maintenance Coverage
Nissan provides a basic warranty package that covers the same amount of time as all models of the Nissan class, though the battery of the leaf is covered for 10000 miles or up to 8 years. They offer limited warranty cover that has three years or 36000 miles warranty, in the powertrain covers five years or 60000 miles warranty. The battery warranty covers 100000 miles or eight years and no complimentary scheduled maintenance.
If we talk about the safety features of the 2022 Nissan leaf, then it comes with a standard automated emergency braking system with pedestrian detection, available adaptive cruise control with semi-autonomous driving mode, and standard blind-spot monitoring with rear cross-traffic alert.
Conclusion-
Buy the best electric vehicle, the Nissan leaf, from car dealerships near Pensacola fl, at an affordable price.
Copyright © 2020-2021 | iGOTCARS