2020 Nissan NV Cargo Pros VS Cons Should You Buy?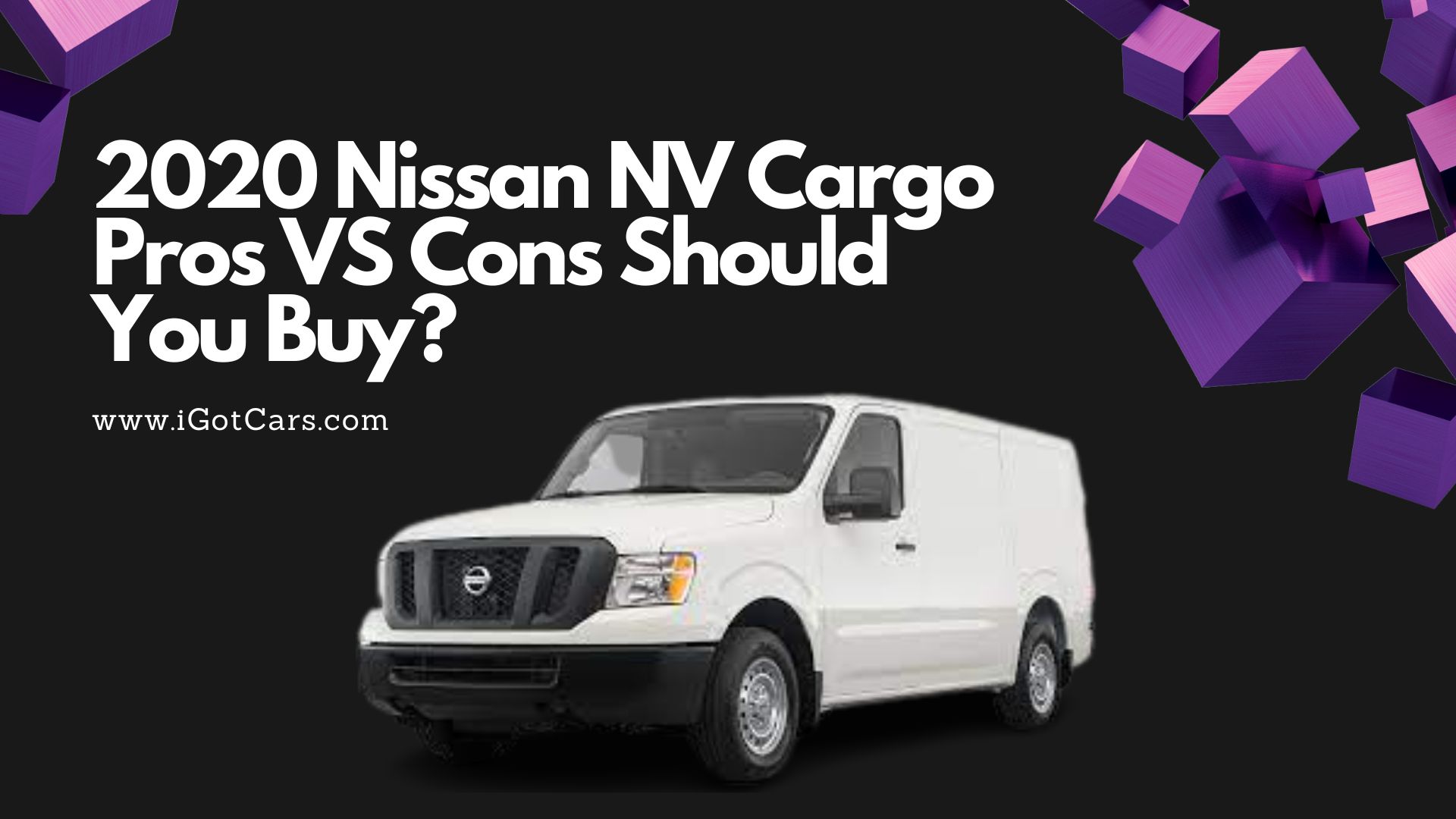 Cargo and passenger vans are the workhorses of the automobile world. Even more so than pickup trucks as these vans are very versatile. On one hand, they can offer a large amount of cargo and on the other side, they can deliver many passengers at one time. Yet, people who have never used these vehicles think that they are nothing but a bare interior wrapped inside a plain exterior. This may be true with other models but the 2020 Nissan NV Cargo is an exception. If you want to get this van hassle-free then you need to look for automobile dealerships near me. Not only this van offers the needed comfort to its passengers but it can mostly be used to deliver thousand pounds of machinery and material. This is a perfect match with the customer requirement.  
If we compare the 2020 model with the previous year model then you will see few additions and subtraction in it. The 2020 Nissan NV Cargo is a versatile and reliable commercial van that offers a range of benefits for businesses and individuals alike. The SL trim has been promoted to be used exclusively with the NV 3500 payload configuration. But the S trim no longer supports the more powerful 8-cylinder engine. Across the board, many high-tech features have been moved across all trims. Whether you are looking for a vehicle to transport goods or need a mobile workspace, the NV Cargo is designed to meet your needs. Though, before buying any vehicle people want to know everything about it. Though when you visit dealerships then they will explain about used cars no credit check but before visiting dealers it is good to know about vehicles. If you are one of them then here we will discuss some pros and cons of buying the 2020 Nissan NV cargo so let's start. 
Pros Of Buying The 2020 Nissan NV Cargo
Spacious And Versatile Interior
The NV Cargo provides an incredibly spacious interior, allowing for easy loading and unloading of cargo. With a maximum cargo capacity of up to 323.1 cubic feet, you will have ample space to transport goods of various sizes. The van's square-shaped cargo area makes it easy to utilize every inch of space efficiently. Moreover, the NV Cargo offers flexible seating options, allowing you to customize the interior to suit your specific needs.
Efficient Engine Options
The 2020 Nissan NV Cargo comes with a powerful and efficient engine lineup. The base model comes with a 4.0-liter V6 engine that delivers 261 horsepower and 281 lb-ft of torque, providing ample power for your daily needs. For those requiring even more power, an optional 5.6-liter V8 engine is available, producing an impressive 375 horsepower and 387 lb-ft of torque. You can choose the engine as per your towing needs while buying used cars with financing near me. These engine options ensure that the NV Cargo can handle heavy loads and maintain good fuel efficiency.
Excellent Towing Capacity
If you need to tow trailers or other equipment, the NV Cargo has you covered. With a maximum towing capacity of up to 9,400 pounds, this van can handle a wide range of towing tasks. Whether you are transporting additional cargo or hauling equipment for work purposes, the NV Cargo's towing capabilities make it a reliable and versatile choice.
Advanced Safety Features
Nissan has prioritized safety in the NV Cargo, connecting it with a lot of advanced safety features. These include an available rearview camera, rear parking sensors, and a tire pressure monitoring system. In addition, electronic stability control, anti-lock brakes, and traction control come standard, providing added peace of mind while driving. The NV Cargo's safety features help to minimize the risk of accidents and ensure a secure driving experience. If you want to get this van with all advanced features then you need to find the best place to buy used cars. 
Comfortable And Ergonomic Design
The NV Cargo is designed with comfort and convenience in mind. The driver's seat is ergonomically designed, providing excellent support for long drives. The van's high seating position offers a commanding view of the road, enhancing safety and visibility. The cabin is well-insulated, minimizing noise and vibration for a more comfortable driving experience. With thoughtful design features, the NV Cargo prioritizes the comfort of both drivers and passengers.
Easy Loading And Unloading
The NV Cargo is designed to make loading and unloading cargo as easy as possible. The van features wide-opening rear doors that swing open up to 243 degrees, allowing for convenient access to the cargo area. And, the low step-in height and sliding side door make it effortless to load and unload goods. These features enhance productivity and efficiency, making the NV Cargo an excellent choice for businesses that require frequent loading and unloading. If you want to purchase this van without any problem then you can visit a tx auto dealer in USA.
Durable And Reliable Construction
The NV Cargo is built to withstand the demands of commercial use. It features a rugged body-on-frame construction, which offers exceptional durability and longevity. The van's robust chassis and suspension system ensure a smooth and stable ride, even when carrying heavy loads. You will never feel uncomfortable even while delivering heavy loads. With its sturdy construction, the NV Cargo is designed to handle the rigors of daily use, making it a reliable choice for businesses.
Advanced Technology And Connectivity
The 2020 NV Cargo comes with modern technology features to enhance your driving experience. It offers an available touchscreen infotainment system with navigation, Bluetooth connectivity, and smartphone integration. All menus on the infotainment system are well-managed and you can easily use them. The van also provides available USB ports, allowing you to keep your devices charged and connected while on the go. These technology features help you stay connected, informed, and entertained during your journeys. To purchase this van you have to find reputed auto sales near me. 
Competitive Pricing And Warranty
The 2020 Nissan NV Cargo offers excellent value for its features and capabilities. Compared to its competitors, the NV Cargo is competitively priced, making it an affordable option for businesses and individuals. Moreover, Nissan backs the NV Cargo with a comprehensive warranty, providing coverage for up to 5 years or 100,000 miles, whichever comes first. This warranty offers peace of mind and demonstrates Nissan's confidence in the durability and reliability of the NV Cargo.
Customizable Upfitting Options
To cater to various business needs, the NV Cargo offers a range of upfitting options. The cargo area can be customized with shelving units, partitions, and other accessories to create an organized and efficient workspace. Nissan offers numerous upfitting options through its network of certified upfitters, ensuring that the NV Cargo can be tailored to meet the specific requirements of your business. Thus, before visiting a used car dealer near me you need to know what you are expecting from this van. 
Cons Of Buying The Nissan NV Cargo
Above you have read some of its pros of buying the 2020 Nissan NV Cargo. As we all know every car comes with some positive and negative points so here we will discuss its cons here. 
Outdated Design
One of the significant downsides of the 2020 Nissan NV Cargo is its outdated design. Compared to its competitors, the NV Cargo lacks the modern styling and aesthetic appeal. The boxy exterior and dated interior design may not appeal to buyers who are looking for a more contemporary and stylish cargo van.
Poor Fuel Efficiency
The NV Cargo's fuel efficiency is another drawback. With its V6 engine, the NV Cargo lags behind its competitors in terms of fuel economy. This can be a significant concern for businesses that rely on their cargo vans for daily operations, as the higher fuel consumption can lead to increased operating costs. Though, if you don't use your van then this is a good option for you so visit auto dealers near me and get your vehicle. 
Subpar Ride Quality
The NV Cargo's ride quality is another aspect that falls short. The suspension system is not as refined as its competitors', resulting in a less comfortable and smooth ride. This can be problematic, especially when transporting fragile or sensitive cargo that requires a stable and smooth driving experience.
Limited Safety Features
Safety is an important consideration for any vehicle, and the NV Cargo falls short in this area. It lacks many advanced safety features that are becoming standard in newer vehicles. For example, features like blind-spot monitoring, lane departure warning, and forward collision warning are not available or are only offered as optional extras. This can be a significant drawback for buyers who prioritize safety in their purchasing decisions. However, some people don't use many features while driving and if you also don't like many features then you can choose it because this van comes with basic safety features. 
These are a few pros and cons that you should consider while buying the 2020 Nissan NV Cargo from trustworthy buy here pay here auto dealers near me. When you know everything about a vehicle before buying it then you can make decisions easily. 
Copyright © 2020-2021 | iGOTCARS