10 Things To Consider Before Buying The 2021 Toyota Corolla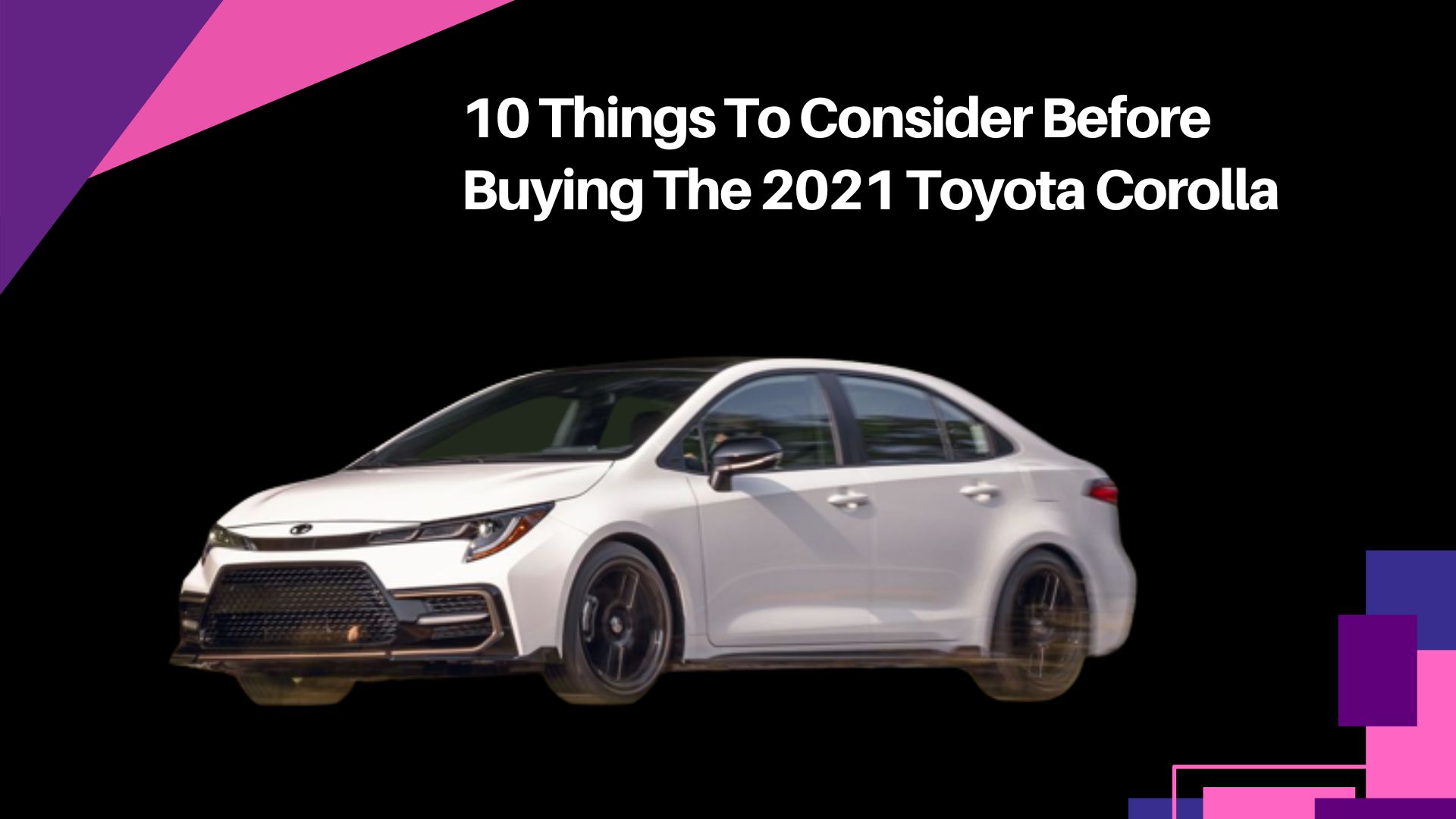 Buying a vehicle is a tough task and you have to make decisions wisely because you invest your hard-earned money on it. Many people make up their mind to buy a vehicle and visit the showroom directly but this is not the right way to purchase a vehicle. When you visit directly to the showroom then they may try to trap you. To avoid this kind of situation you should search for a vehicle that you want to buy and know everything about it. Though, there are many no credit check auto dealers near me that offer quality vehicles and give you correct details but when you know everything about the vehicle then you feel confident while making a deal. 
If you are in the market to purchase the 2021 Toyota Corolla then in this article you will know everything about it. The Toyota Corolla has long been regarded as a reliable and fuel-efficient vehicle, making it a popular choice among car buyers worldwide. The 2021 model brings forth several advancements in design, technology, and safety features. However, before making your final decision to purchase a 2021 Toyota Corolla, it is crucial to consider various aspects to ensure it aligns with your needs and preferences. In this article, we will explore ten essential factors to consider before buying the 2021 Toyota Corolla so let's start. 
Performance And Efficiency
The 2021 Toyota Corolla offers different engine options, including a standard 1.8-liter four-cylinder engine and an available 2.0-liter four-cylinder engine. Consider your driving habits and requirements to determine the appropriate engine choice. Additionally, analyze the fuel efficiency of each engine variant to ensure it matches your expectations and budget, as higher fuel efficiency translates to reduced running costs. If you want to purchase these high performance and quality pre owned vehicles then you need to find trustworthy dealerships in your area. 
Trim Levels And Features
The 2021 Corolla comes in several trim levels, each offering distinct features and options. Evaluate the available trims to find the one that best suits your requirements and budget. Consider factors such as interior amenities, infotainment systems, safety features, and exterior enhancements while selecting trims. Higher trim levels typically offer more advanced features, but they also come with a higher price tag.
Safety Features
Safety is a crucial consideration when purchasing any vehicle. The 2021 Corolla comes equipped with an array of safety features, including advanced driver assistance systems such as lane departure warning, adaptive cruise control, automatic emergency braking, and blind-spot monitoring. Ensure the safety features align with your preferences and offer the level of protection you desire.
Interior Space And Comfort
Assess the interior space and comfort of the 2021 Corolla to ensure it accommodates your needs. Consider factors such as seating capacity, legroom, headroom, and cargo space even for taller passengers as well. If you frequently transport passengers or require ample storage, choose a Corolla model that offers spaciousness and versatility. To get the best deals auto sales you need to research properly or you can ask from your family and friends who have bought vehicles before. 
Infotainment And Connectivity
The Corolla's infotainment system plays a vital role in enhancing your driving experience. Evaluate the available features such as touchscreen displays, smartphone integration like Apple CarPlay, Android Auto, Bluetooth connectivity, USB ports, and audio system quality. You will see all menus on the infotainment are properly lined up so you can easily use it while driving. Ensure the infotainment system is user-friendly and offers the connectivity options you desire. 
Reliability And Resale Value
Toyota vehicles are renowned for their reliability and high resale value. Consider the long-term reliability track record of the Corolla, as it can impact your ownership experience and future resale value. Research the vehicle's history, read reviews, and assess Toyota's reputation for producing dependable vehicles.
Maintenance And Ownership Costs
While the Corolla is generally affordable to maintain, it is essential to consider ongoing maintenance and ownership costs. Research factors such as routine maintenance intervals, service costs, insurance rates, and fuel economy. You can talk about these things with dealers so you will get an idea how much you need to invest. If you have a low credit score and want to get this car then you have to look for a dealership that offers used cars with bad credit near me.  It is prudent to calculate the overall cost of ownership to ensure it fits your budget over the vehicle's lifespan.
Test Drive And Handling
Before finalizing your decision, take the 2021 Corolla for a test drive. Evaluate its handling, steering responsiveness, braking performance, and overall driving experience. Pay attention to factors such as ride comfort, noise levels, and suspension system. While test driving, you can also use some features and see how they react. To know about comfort you can drive on different roads. A test drive will provide firsthand experience and help you gauge whether the Corolla meets your expectations.
Exterior Design And Styling
Exterior design plays a significant role in the overall appeal of a vehicle. Assess the 2021 Corolla's exterior styling, considering factors such as aesthetics, aerodynamics, and visual enhancements. Choose a design that resonates with your personal taste and suits your personality. If you want to impress someone with great styling then this vehicle is a great option for you. 
Pricing And Financing Options 
Determine your budget and research the pricing options for the 2021 Toyota Corolla. Compare prices across different trim levels and consider additional costs such as taxes, insurance, and registration fees. You can explore financing options like you can visit In house finance car lots near me to get financing facilities at reasonable rates. 
These are 10 things that you should consider while buying the 2021 Toyota Corolla. When you know these things before purchasing a vehicle then you feel confident that you are getting the right deal. 
All Models Of The 2021 Toyota Corolla
The 2021 Toyota Corolla is a popular compact car known for its reliability, fuel efficiency, and practicality. Toyota offers a range of models and trims to suit various preferences and budgets. Here we will talk about the different models of the 2021 Toyota Corolla, highlighting their key features and specifications.
The base model of the 2021 Toyota Corolla is the Corolla L. It comes with a 1.8-liter four-cylinder engine producing 139 horsepower. The Corolla L features a six-speed manual transmission as standard, with an option for a continuously variable transmission. Standard features include LED headlights, a 7-inch touchscreen infotainment system, Apple CarPlay and Android Auto compatibility, and Toyota Safety Sense 2.0, which includes adaptive cruise control, lane departure warning, and automatic emergency braking. You can purchase this model with all features from dealers that offer the best used cars for sale near me. 
Moving up the trim ladder, we have the Corolla LE. This model adds several additional features, such as automatic climate control, upgraded upholstery, and keyless entry. The LE trim also offers the option for the hybrid powertrain, known as the Corolla Hybrid. The Corolla Hybrid combines a 1.8-liter four-cylinder engine with an electric motor, resulting in an impressive EPA-estimated 53 mpg in the city and 52 mpg on the highway.
Next in line is the Corolla SE, which focuses on a sportier driving experience. The SE trim includes a sport-tuned suspension, 18-inch alloy wheels, and steering-wheel-mounted paddle shifters when equipped with the CVT. It also adds a sporty exterior styling kit, including a rear spoiler and unique front fascia. Inside, the SE features sport seats and a leather-wrapped steering wheel. The SE trim also offers a manual transmission for those who prefer a more engaging driving experience. If you love sporty cars then this is the perfect model for you so visit in house financing car lots and get your dream car. 
For those seeking a more upscale Corolla, there is the XLE trim. The XLE enhances comfort and convenience with features like synthetic leather upholstery, heated front seats, a power-adjustable driver's seat, and a larger 8-inch touchscreen infotainment system. Additional features include a power moonroof, blind-spot monitoring, and rear cross-traffic alert.
At the top of the line is the Corolla XSE. It combines the sporty features of the SE trim with the luxurious amenities of the XLE trim. The XSE adds features like SofTex-trimmed sport seats, a sport-tuned suspension, and a unique grille design. It also includes ambient interior lighting, a wireless charging pad, and a JBL premium audio system.
Apart from the different trims, the 2021 Toyota Corolla offers a variety of optional packages and standalone options. These include advanced safety features like a surround-view camera system, adaptive headlights, and a navigation system. You can select models as per your needs and make sure it fits into your budget. Though every trim has a unique feature then you can easily find the best fit for you under budget. 
If you have a tight budget then you can go for financing options and for that you need to choose a dealer that offers in house financing cars near me. Make sure before signing the contract you read all policies and terms and then sign it. 
Copyright © 2020-2021 | iGOTCARS